LMS Competency Programs in Axis LMS


Use Axis LMS Competency Programs to evaluate employee skills.
Axis LMS includes the ability to set up competency programs for your employees. By incorporating competencies, you'll be able to create structured learning paths and required online course completions for employees, enabling you to evaluate skill sets across your organization.
Using the competencies feature, you create learning paths where employees need to pass multiple courses in order to be considered competent in a certain skill set. Upon completion of the competency requirements, they are awarded a certificate of completion.
With competencies, you can decide how your employees access the content.
While creating the competency, you'll be able to enforce participation and completion requirements such as creating 'elective' courses a user can choose from within a select group of courses, what courses are required, and in what order employees are able to complete these courses.
How to Set Up LMS Competency Programs
By creating and using competencies inside Axis LMS, administrators are able to offer a new way for select users to achieve a higher certification. While courses can award their own certifications, LMS competencies allow users to progress through a larger collection of courses to award its own certificate; this means the user is able to earn a certificate from all of their courses, and a competency specific certificate.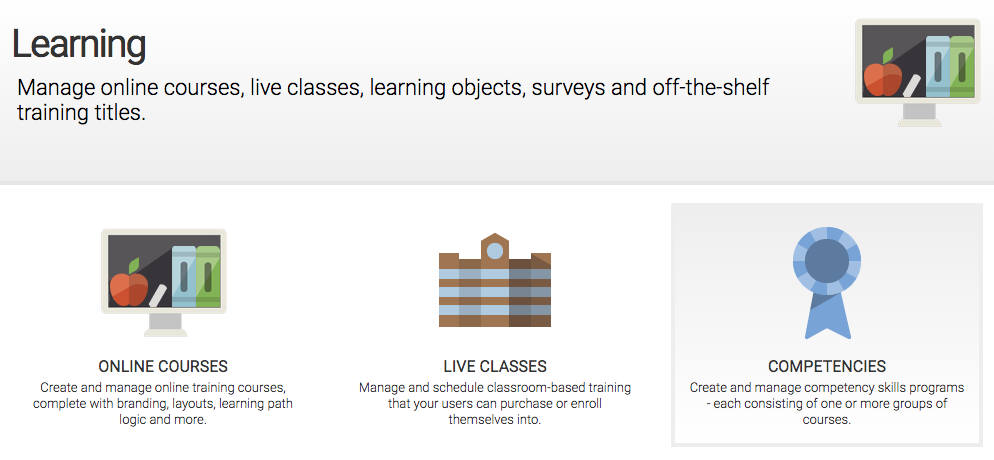 LMS Competencies are best used when you only want a certain group of users to be able to earn the certificate, or when the certificate you're awarding does not need to be renewed.
Assuming you've already created the courses you want to be included in the competency, the steps to create your Competency Program are:
Create at least one Course Group
Activate the Course Group
Repeat Steps #1 and #2 as needed
Create a Competency
Activate the Competency
Course Groups
Learning > Competencies > Manage Course Groups
Competencies are created from one or more Course Groups. These are a collection of courses that can be used in any of your LMS Competency Programs. When used in an LMS Competency Program, users will need to pass one course from the group to earn credit for that requirement; users will need to pass at least one course from each Course Group to earn their certificate.
How to Create a Course Group
Course Groups are created from your competencies page. Begin by managing your Course Groups, and then adding a Course Group.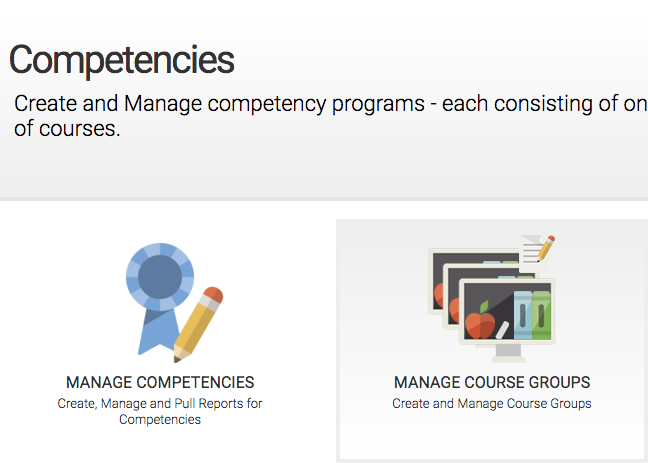 When creating your Course Groups, you'll be prompted for a Group Name, and a Description. These are both for administrative purposes, and allow you to easily determine what each Course Group should accomplish.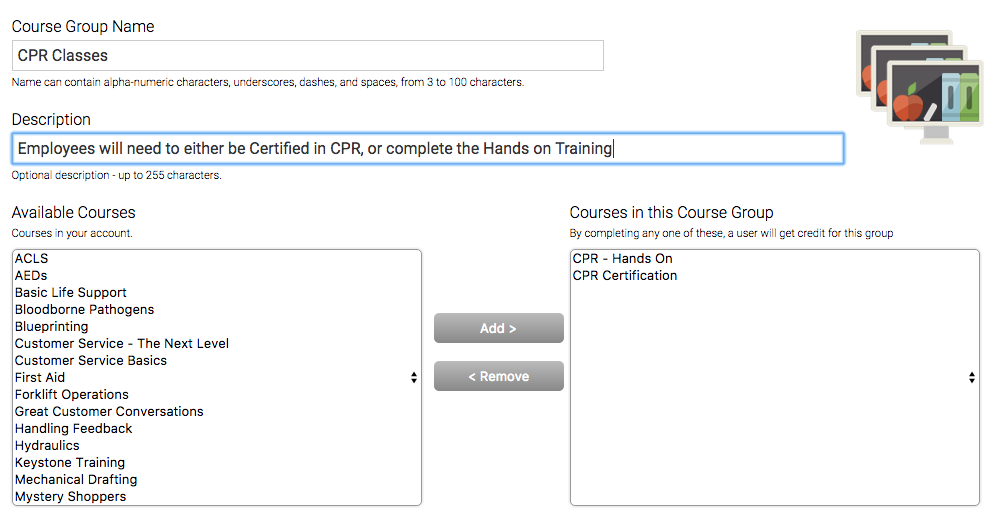 Course Group Listing
After creating one or more Course Groups, your Course Group will be created in an editable state. While in this state, it is not yet ready to be used in an LMS Competency Program. The Course Group can either be edited, returning you to its creation page, activated, or deleted.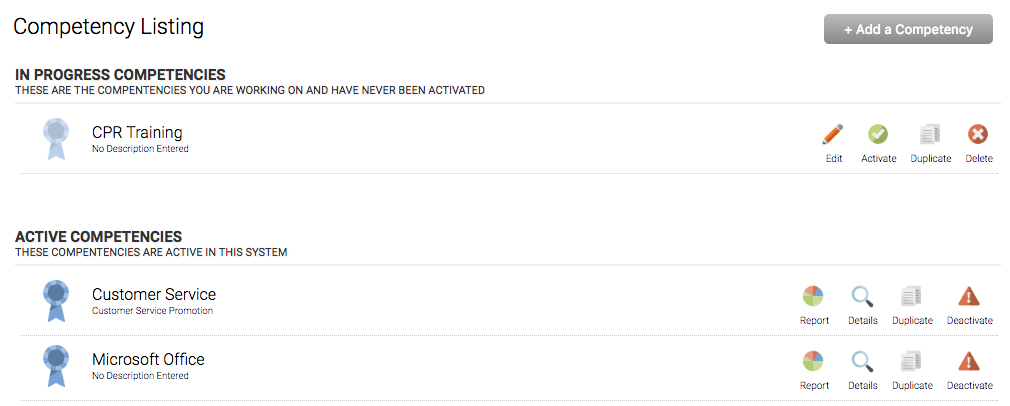 Activating the Course Group means you'll no long be able to make changes to the group, but it can be used inside LMS Competency Programs. Deleting it removes it from the view, and cannot be recovered.
For Course Groups that are already active, you can see its courses in a view-only state, or deactivate to prevent its use in future Competency Programs.
Competency Programs
Learning > Competencies > Manage Competencies
LMS Competency Programs are what award the competency certificate. After meeting the Program's requirements (passing at least one course from each Course Group), users will have earned their certificate.
Creating a Competency Program
After creating and activating at least one Course Group, you'll be able to use them inside of your LMS Competency Programs. Begin by managing your competencies, then Add a Competency.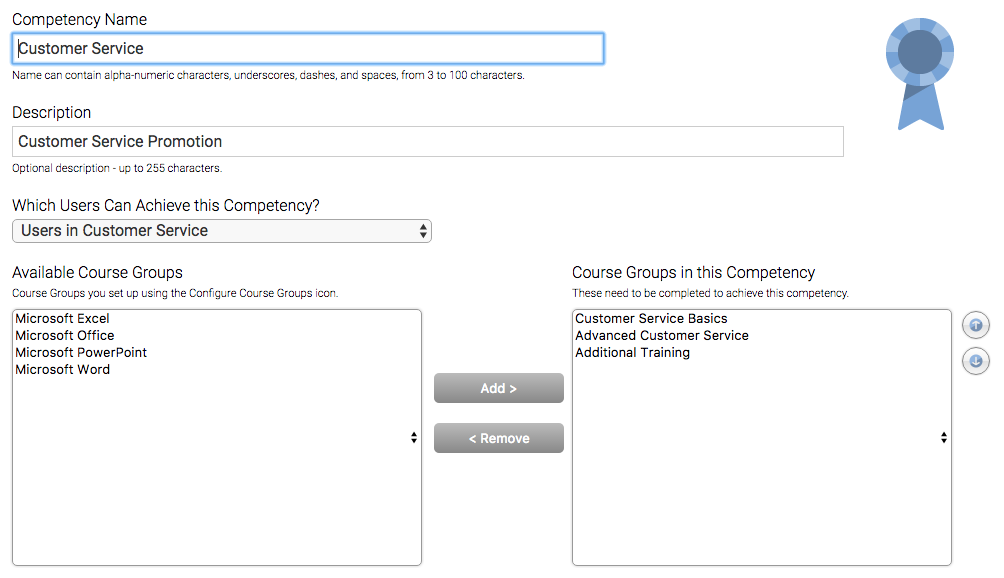 The competency will prompt you for a Name and Description. The Name can be viewed by the user, so you'll want to keep this in mind when filling out these fields.Next, you'll be asked to select the Usergroups that are eligible to earn this Competency. This is really what makes competencies such a valuable tool; by restricting who is is eligible to earn this certificate, all of your users can take the same courses, but only the performance of select users matter to this competency.Now you'll need to select which Course Groups the LMS Competency Program should acknowledge completions from. It's going to be looking for one completion from each of these groups to award its certificate. Select courses from the listing on the left, then use the arrow icons to add them to the right listing.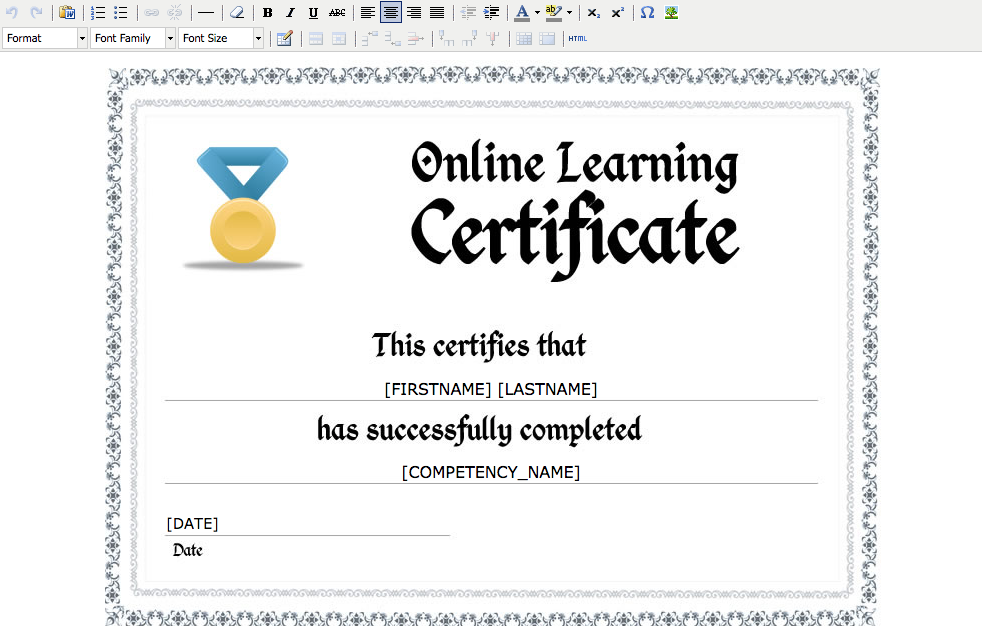 At the bottom of the page, you'll have the ability to edit this competency's certificate. As with most Axis editors, you are able to open up an HTML editor to make pixel precise edits, or use the display editor and its tool bar above. To switch out the background image, select the floral border of the certificate in the top right, then click the Image button to receive a prompt, allowing you to select a new image from your Files Library.
The editor also uses 3 competency specific placeholders: Competency Name, Competency Description, and the Date this Certificate was filled out for the user.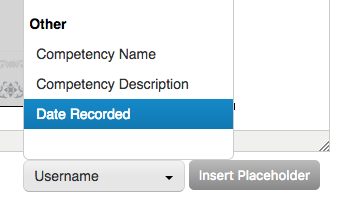 LMS Competency Program Listing
After creating your competency, you'll once again be prompted to either make adjustments to it, activate, or delete it. Activating it allows users to begin earning the competency immediately.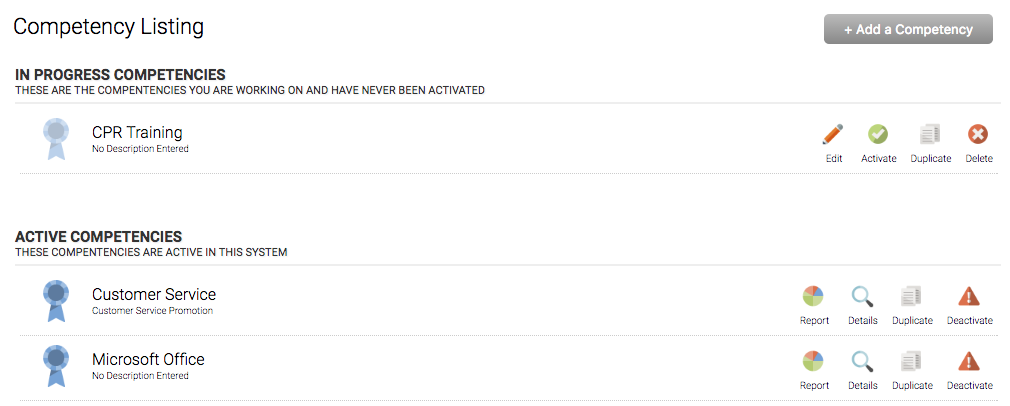 Your active Competency Programs have a different set of tools; you're able to pull up reports, view its Usergroup/Course Details (view only), duplicate or deactivate.
Competency Reports
When viewing the reports of Active Competencies, you'll pull up a list of all the users eligible for that competency, and their progress in the competency. You can export or print this listing, or apply filters to only show users with a minimum amount of progress.

Along each record, you're also able to view all the competencies the user is able to earn, and view the details of that user's progress in the competency.
When viewing a user's progress in the competency, you can enroll, dis-enroll, or reset a course from any of the Course Groups in the competency.
Competency Widgets
After your Competency Program is active, your users can immediately begin working towards it – but unless you add a way for them to track it, it's all going to be behind the scenes. To achieve this, you'll want to add a competency listing widget to your Learning Portal.
Begin by editing a page from your Learning Portal, then selecting the add widget button to add a Competency Listing.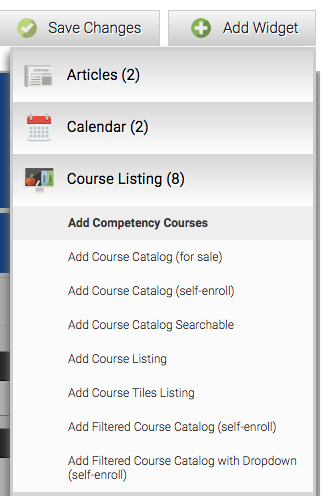 Now by editing the widget, you're able to specify how the competency will appear to the user. After specifying which setting are most appropriate for your company's users, saving your changes will allow your users to begin tracking their progress for all of their competencies.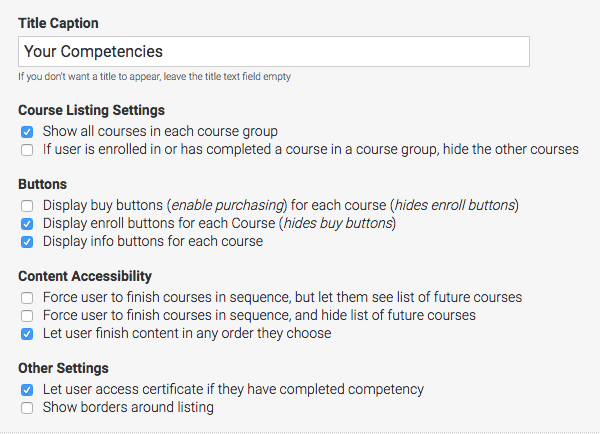 Course Listing Settings
By default, all the courses in all the course groups will be listed. Selecting the second checkbox will hide the rest of a Course Group's courses after a user has met that requirement (completed one course from that Course Group).
Buttons
By default, a user will be able to freely enroll into any of the courses listed in the competency widget. If you're selling these courses, check the first box, and uncheck the second. If some courses are for sale, and others are available for open enrollment, uncheck all but the third checkbox. On the course's info page, you'll want to add a way for the user to either purchase or enroll into the course.
Content Accessibility
By default, there is no order that users need to complete Course Groups. But by checking either the first or second checkboxes, users will have to finish courses in order.
The result will be that users will be shown each competency they are eligible for (based on the usergroup(s) they are in), and will be able to access those courses, complete them, and even obtain their competency certificate (if you've enabled it).
If you enjoyed this article please consider staying updated via RSS.
This entry was posted on Friday, January 27th, 2017 at 11:05 am and is filed under ELearning 101. Responses are currently closed, but you can trackback from your own site.