Time Released Content in Axis LMS


Learn how to set up content to be shown based on progress, user-group, dates, and other criteria.
Are you looking to have a certificate display to your LMS trainees after they spend a certain amount of time in a course? Do you want unlock access to new learning content on a daily or weekly basis? These scenarios (and more)  are possible within Axis LMS.
There are many ways to control how users access content.
For example, you can limit when each content module is able to be taken, how much time users have to spend in a particular module, and even the amount of time they need to spend on a slide before moving to the next. You can also set up your course to require a proctor to be present in order to access certain content.
Implementing Time Based Content Delivery in Axis LMS
There are two different categories of content delivery that you will likely employ: either 'rapid fire' or 'slow and steady'.
While a 'rapid fire' strategy inherently lends itself to companies with a lot of turnover, the 'slow and steady' approach gates their course's content behind time windows, encouraging their users to spend more time in their modules and become exceptionally familiar with the content.
While neither strategy is wrong, this article will focus on different methods to release your content to users at a controlled pace; either to meet regulatory requirements, self-imposed based on the difficult of the content you're delivering, or as a response to recent user passing rates.
Before you decide to slow your users' pace, you'll want to consider how to pace your users in a way that best fits your business model. The tools within Axis LMS enable you to pace your users in a few different ways:
Learning Objects
Learning > Online Courses > Learning Objects > Manage Learning Objects > Manage > General Settings > Module Timer
Module timers are especially useful on Video modules, but can also be used more a majority of the other module types, such as Graded Quizzes and Web Objects. Module timers are applied to a learning object as whole, meaning that for a 2 minute module with 2 questions can have a user spend 90 seconds on question A, and 30 seconds on question B to meet the time requirements.
If your business uses a lot of videos as a part of their courses, you may want to consider adding timers at a Module level.
Slides
Learning > Online Courses > Learning Objects > Manage Learning Objects > Manage > General Settings > Slide Timer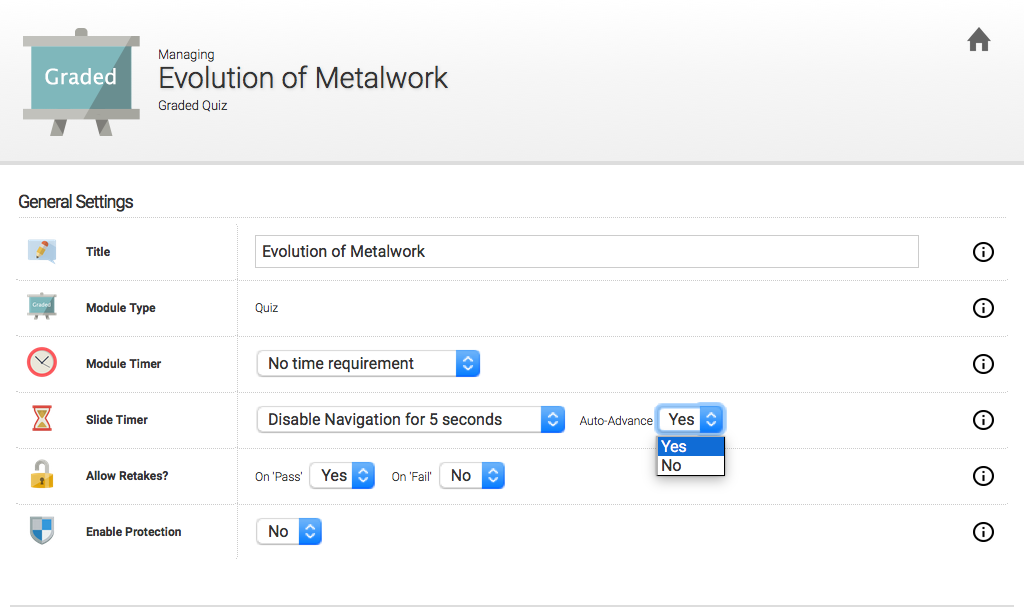 Since the introduction of Module Timers, Slide Timers have become slightly redundant. However, if you're working inside a Graded or Non-Graded Quiz, the opportunity to pace the quiz out on a slide by slide basis is available, ensuring that your users spend at least a certain amount of time on each slide.
One of the main appeals of Slide Timers is that you're able to automatically advance the user through each slide when the timer has expired, if you've selected that option from the dropdown. If your company favors delivering slides in a style similar to a presentation, using the auto-advance option inside a Non-Graded Quiz will allow you to do just that.
Course Time Requirements
Learning > Online Courses > Manage Courses > Manage > Page Manager > Settings
Learning > Online Courses > Manage Courses > Manage > Page Manager > Edit Section > Settings
Course Page and Section Requirements allow the users perhaps the most flexibility regarding what content they want to access. Instead of requiring a user to spend a certain amount of time in a specific module, a user will need to spend time in any number of the modules they can currently access in order to meet the time requirements to access new pages / sections.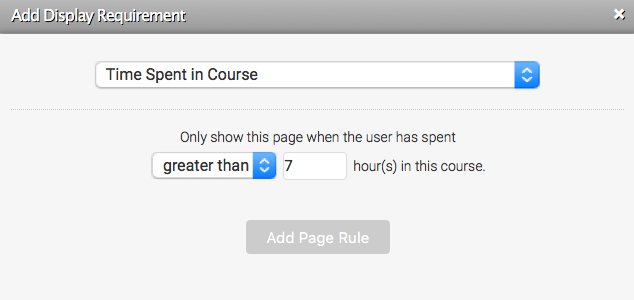 Note: Course Time Requirements only ticks up when a user spend times in a module within that course
When adding Course Time Requirements, you will need to decide what content is fitting to lock behind a several hour requirement. Some admins choose to only gate the final piece of the course (a Certificate) behind this requirement, but you may choose to pace it out further, requiring users to have spent several hours on one section before being capable of starting the next.
Course Time Requirements are a great option if your company is delivering Certification courses that require a user to dedicate a certain amount of time towards that Certification.
Course Requirements
Learning > Online Courses > Manage Courses > Manage > Event Triggers
Course Requirements are akin to Time Requirements, but is more a combination of several different methods into one. Rather than being a specified amount of time, a user will be required to complete an objective inside of another course to be able to access another course. Where the time comes into play is if the objective that is access is being locked behind a Time Requirement. The main appeal of Course gated content is a line a thinking very similar to Timed Course Requirements; however, using this structure forces a user to spend time on a specific subject, rather than any variation of modules.
For example…
if you have a 40 hour course broken into 5 sections; each section would require 8 additional hours than the previous. However, if you're only using Course Time Requirements, users can access the 3rd section after spending 16 hours in Section 1, rather than 8 hours in section 1, and 8 hours in section 2.
By breaking these 8 hour sections into their own courses, you can ensure that your users are spending the 8 hours each section is intended for.
To set up a structure like this, you'll need at least 2 courses, each with their own event triggers to enroll users into the next course after they have completed some objective inside the course. This objective would need to be locked away behind the 8 hour requirement.
For example…
after a user has passed the "Section 1 Comprehension" quiz, enroll them into the Section 2 Course. However, this quiz should only be accessible after a certain amount of time has passed.
If you enjoyed this article please consider staying updated via RSS.
This entry was posted on Tuesday, January 17th, 2017 at 11:14 am and is filed under ELearning 101. Responses are currently closed, but you can trackback from your own site.