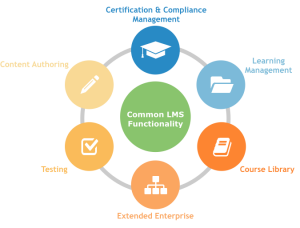 If you have been involved in training for any length of time, chances are you are aware of some of the benefits of an LMS.
However, there are a surprising number of organizations that have either resisted implementing a Learning Management System, or, are unaware of the vast benefits an LMS provides – both financially, as well as in its effectiveness for managing training and learning.
One can certainly craft a list of dozens if not a hundred realized benefits they have experienced once they implemented an LMS for their organization. For our purposes, here are a few of the most common benefits that nearly all organizations will experience.
Improve Employee Performance
Organizations often experience improved employee performance once they implement a Learning Management System. The ability for employees to access training without leaving their work space, and in small increments of time (as opposed to having to go off-site for hours or days at a time) is a key contributor.
Meet Essential Regulations
Many organizations must comply with regulatory requirements, whether its industry specific, or something more generic such as safety training. The ease of generating reports, certifications, and proof of completion for regulators, as well as automating reminder notices to trainees are what an LMS does best.
Reduce Training Costs
When an organization adds up all the hard costs associated with training – including but not limited to employee travel expenses, employee time away from work, training room expenses, and instructor fees, its not hard to justify implementing a Learning Management System, which can save as much as 90% of existing training costs vs. not having an LMS! In short, the financial savings alone are often all an organization needs to justify a Learning Management System.
Easy and Intuitive for Assigning and Tracking Learning
The ability to set up both an on-boarding learning program, as well as continuing training for employees is easy with an LMS. The beauty is that once set up, the process can be completely automated, all but eliminating the need to manage an employees training (the Learning Management System takes care of the time-consuming tasks for you).
Rapid Deployment of Targeted Learning Across Roles, Locations, Departments and Groups
Employees in an organization will have all sorts of training – some that all employees take, and some perhaps specific to their role, position, group, or location. A good Learning Management System enables you to align training to the needs of the employee, including all of the above data points, and others as well. In addition, setting up logic that automatically takes the employee trough a learning program based on dates, completions, or success of previous training can be fully automated by an LMS.
Other Learning Management System Benefits
As mentioned, there are many more benefits to implementing a Learning Management System. For a more comprehensive analysis, have a look at our whitepaper entitled Why Not Having a Learning Management System is Costing You Money – it is a real eye-opener. Here is a quick list of some other benefits organizations can realize from the implementation of a Learning Management System:
Improve performance by managing resources more effectively

Manage and meet essential regulatory requirements

Connect knowledge and competencies to business objectives

Make employees and managers accountable for completing training

Reduce travel time and expenses

Improve facilities coordination and cost utilization

Speed the updating, printing and shipping of course manuals and documentation

Reduce the opportunity costs of employees' time away from their work

Reduce the cost of creating learning content

Reduce the cost of off-the-shelf content

Reduce the cost of software for managing and creating courses

Improved training administration

Increased ability to manage and deploy e-learning

Consolidation of training information within a single system

Align training processes with general business and HR processes

Implementation of skills and competency management programs

Reduction in training costs (usually through introducing an e-learning programs)

Increased regulatory compliance

An increase in the number of courses delivered •Improved staff competencies
Better customer service

Faster roll- out for subsequent projects.