Create a Path for Success with your LMS
Because of the large array of features built into most Learning Management Systems, it's not uncommon for the LMS to become an integral aspect of the business using it. And it's because of this that we advocate for administrators to plan not only for their immediate future within their LMS; but also their eventual successor's, and their company's as a whole. And should you be fortunate enough that your hand is no longer needed on a day to day basis with the LMS, you'll want to make sure that the foundation you've laid out will be both easy to understand; and adaptable to the future needs of your company. Or, put more simply, future proofing your LMS.
There's many aspects we could touch on here, but some of the most prevalent can be felt through the use of Templates, System-wide settings, and one-time settings.
Templates
Templates are a great place to start when discussing plans for the future of your system. Not only are they useful for future administrators, they're immediately useful for you as well; helping to keep a consistent, and predictable future for the different pieces of the LMS as you create them.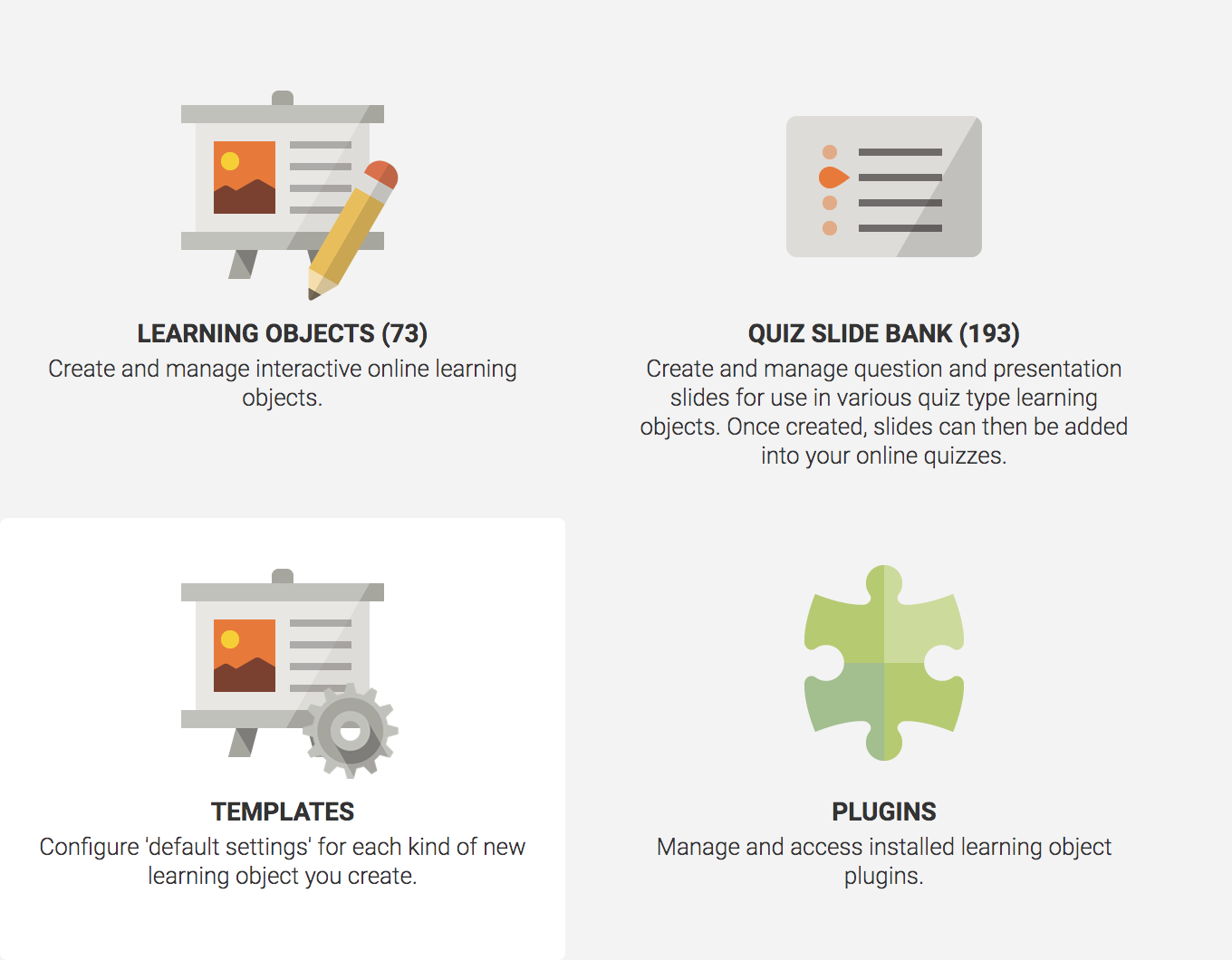 The most literal interpretation of Templates will come in the form of Learning Object Templates. Each Learning Object has its own template, which includes settings such as timers, banners, feedback, and more. Once updated, you're able to ensure that every module created from that point onward will use those settings as their new default. This is especially useful when creating multiple quizzes in a short session.
A less literal translation of Templates would be items such as Courses and Account or Learning Portal Website Pages. Acting in a similar fashion to learning module Templates, Courses and Website Pages you create can be later duplicated; carrying over all the same styles and content to the new iteration, and ready to be tailored for content in the future.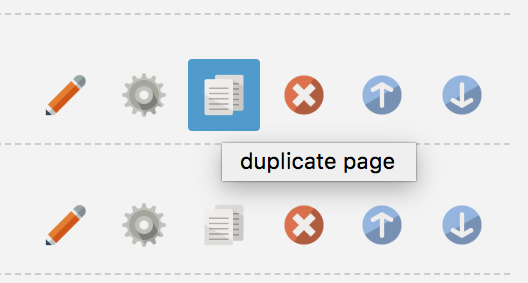 See how Quiz templates can become invaluable by learning about quiz settings here.
Also check out a simple method to use existing courses as templates here.
System Settings
System settings are often mistaken as one-time settings, and while there's no harm in leaving them be (your Axis LMS will continue steady as ever), you may find you're depriving yourself of some useful tools; or worse, future successors may not know these settings exist at all. As it's the first thing future administrators will come into contact with, we're going to focus on some of the most tangible settings in this session; the user's Learning Portal.
While it's not a new subject for discussion, it's hard to overstate the impact your Learning Portal decisions make on a large majority of your user's interface. From scaling and colors, to banners and image; the decisions you make on your Learning Portal affect not only a user's landing page, but also have the capability to cascade down into all of your courses and learning activities.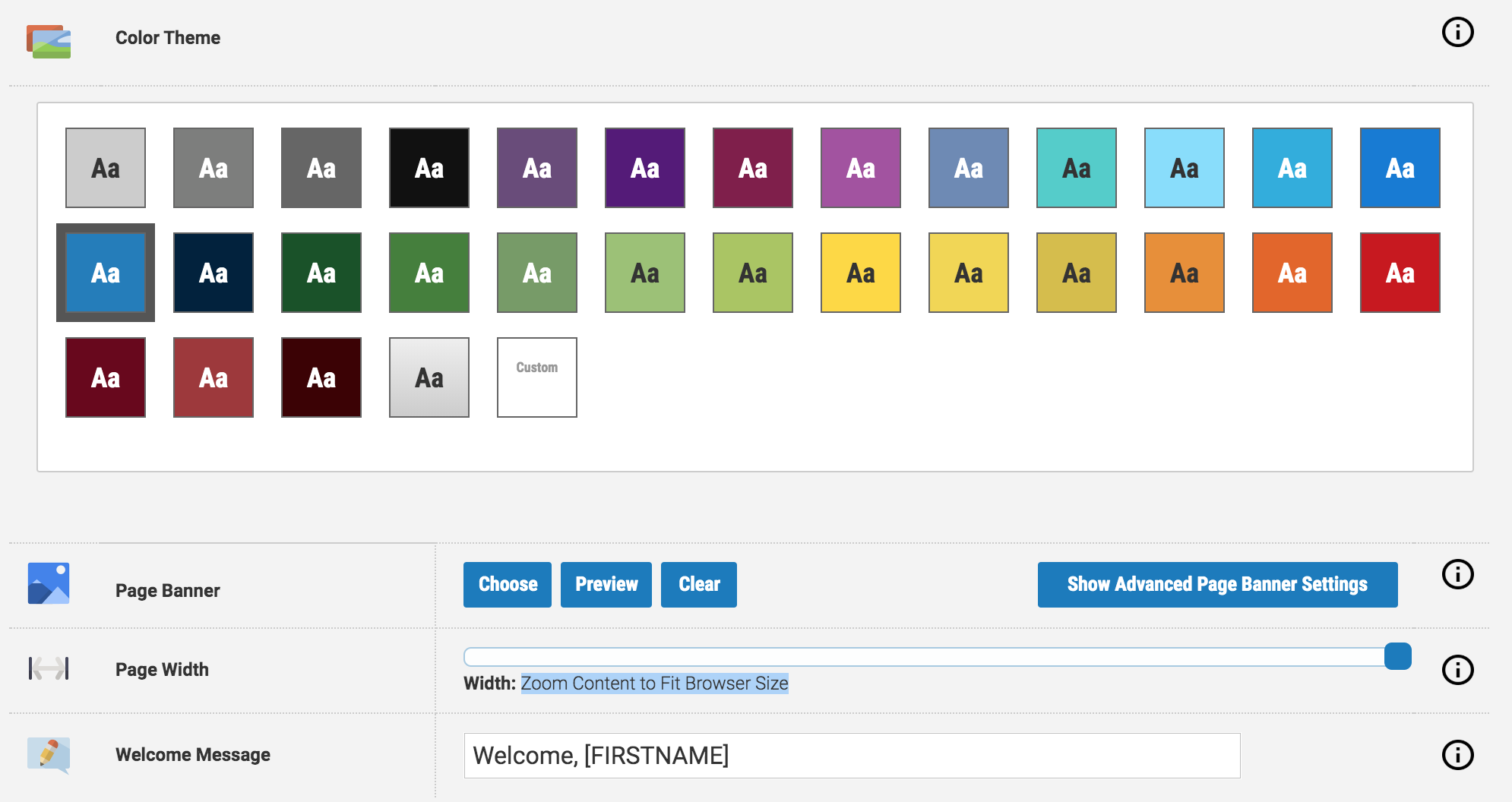 Courses can be updated on a course by course basis to diversify themselves from the decisions made on the Learning Portal; but by-and-large, your Learning Portal design decisions will affect the defaults for all future and existing courses.
While you're working in the Learning Portal, another area with a high user-traffic rate is your system profile settings; where you may dictate what profile fields users are required to fill out, and the what exactly those fields are capturing. All these settings, as well as a few others (such as your system's Terms and Conditions) can be set from your Site Designer's Learning Portal Website.

Learn more about your Axis LMS Learning Portal here
One-Time Settings
One time settings are similar to System Settings but, as you can imagine, typically don't need to be touched after setup. The two heavy hitters in this category would be your Mail Settings, and your E-Commerce Settings.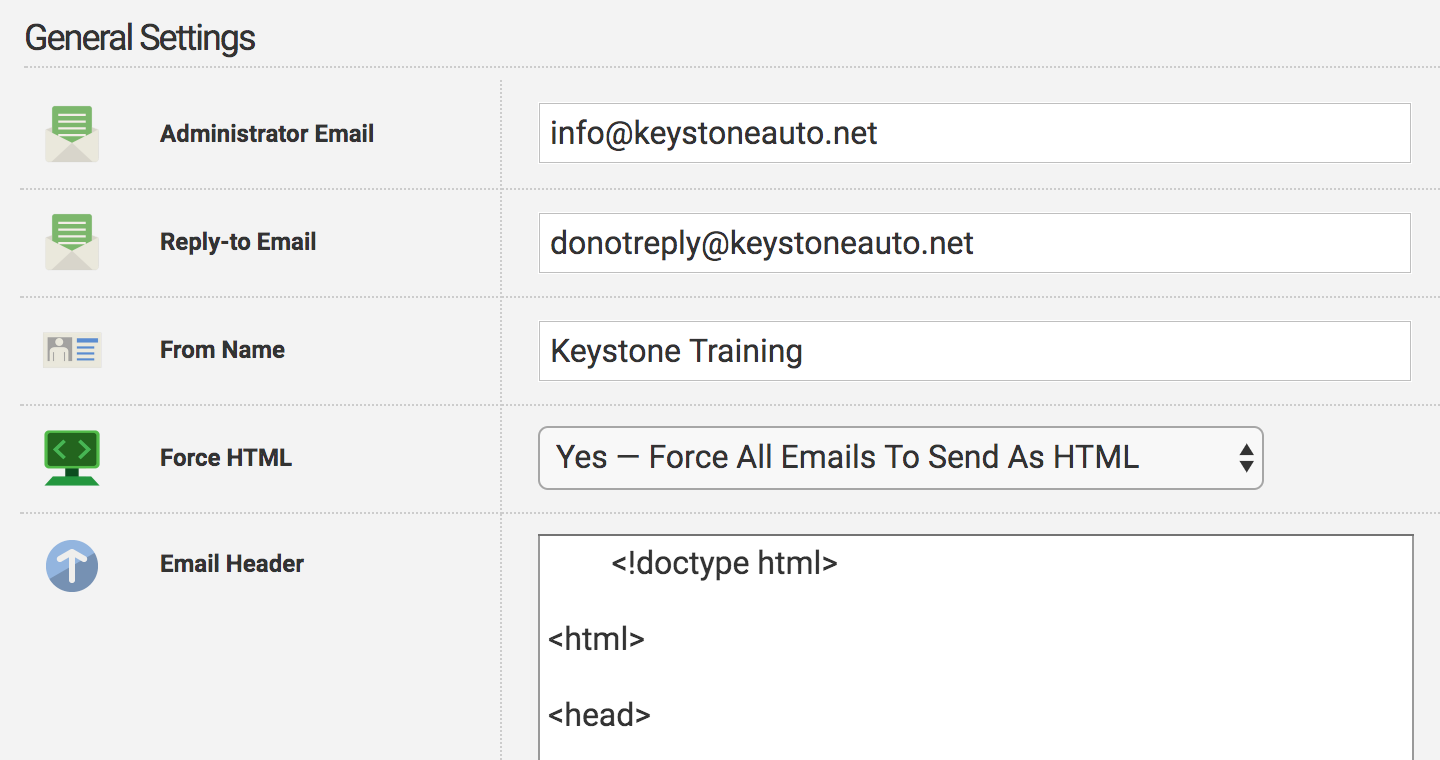 Your Axis LMS mail settings allow you to select one of three different mail services for your system emails to be sent through: either the internal Axis LMS mail service, or two different 3rd party services. The mail settings also allow you to set up header and footer wrappers for your emails, so that if you choose to brand your system email, you are able to. Other settings include allowing you to set sweeping changes to how your system emails present themselves, such as reply-to addresses and from-names. By working in tandem with your Mail Service Provider, you can ensure that your mail settings can be set once, and not need to be worried about again in the future.
E-Commerce settings are yet another area that shouldn't require updates in the future. While course prices may fluctuate over time, your Axis LMS cart setup should require minimal upkeep. The biggest time investment will be selecting your payment gateway, and customizing the gateway-specific settings. After integrating one of the two built-in gateway options (Authorize.NET & PayPal), a few small details are open for your touch before you can wrap up your Shopping Cart setup.
Learn more about some of the Mail Setting options here.
Wrap up our Shopping Cart once – see how here.
Other Tips
While all these tips are useful mechanisms your Axis LMS can provide to you, it's never a bad idea to write your own documentation for future successors. Specific steps could be invaluable, but what may be even more so are the 'whys' of the situation. As the LMS continues to grow into the future, the 'whys' will allow your Atrixware account representatives to guide the successors onto the right path.
Other helpful suggestions include contacting your Atrixware representative, and informing them of successors' names, and contact information; and if you're capable, sitting down for a joint webinar so that both you and your account rep can walk the future administrator through the ins and outs of your Axis LMS, and how your company uses it.