New Features Coming in Axis LMS 10.4


Learn about some of the new benefits and features coming in Axis LMS 10.4.
We here at Atrixware are currently preparing for the next version release of Axis LMS, which is promising to be one of the most innovative so far.
Axis LMS already has a huge assortment of different tools and features – but the upcoming release, version 10.4, is going to see those tools expanded even further.
If you're already an Axis LMS user, you'll be struck immediately by the interface improvements. After the foundation that version 10.3 laid out with its visual unification, Axis LMS 10.4 has re-organized the admin interface to capitalize and polish any lose threads.
By combining similar topics under one unifying theme, Axis LMS 10.4 has reduced the total number of tabs.
For example, take Learning Development, which involves a plethora of areas and tabs currently (Courses, Modules, Slides, Surveys, Live Classes, etc). These have all now been condensed to just the "Learning" tab, which is where returning Administrators will find their Slides, Modules, Courses, Live Classes, and more. This same principle has been applied all across Axis LMS, and will be a benefit to any new LMS administrators.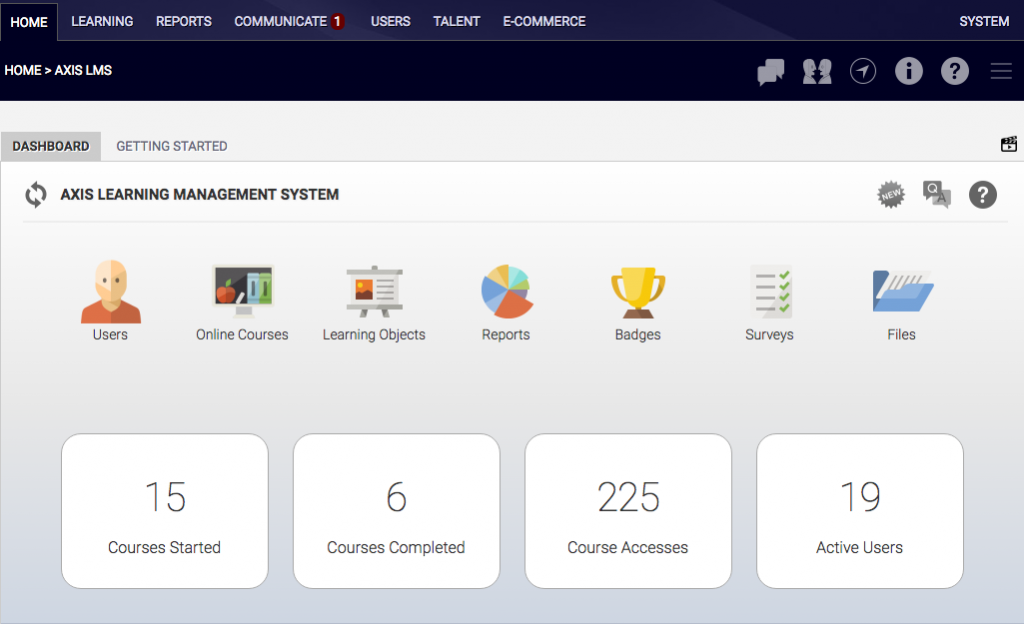 The improved interface also enhances the LMS Administrator dashboard, giving you an at-a-glance view of your LMS system activity and your Frequently Used areas of the system, which will constantly adapt to reflect the areas you visit most – this way, you're never more than one click away from the tools you use most.
Integrated LMS
The Axis LMS API has always been a powerful tool, but its remote location and technical know-how has always had some admins shy away from it. Axis LMS 10.4 attempts to bridge the technical gap by making the Axis LMS API more accessible – in both location and by providing context for each call. LMS Administrators can now create their own API keys, which they can toggle on or off at will. And while using any API will require some technical know-how, the contextual help aims to be less prohibitive and more attainable to all LMS admins.
While logged in as an LMS Administrator, you'll also be able to quickly access intuitive help and video tutorials; both these tools flow seamlessly together, and provide you with the resources you need to familiarize yourself with the System.
When you're exploring the new Axis LMS environment, the new System tab now houses a larger collection of system-wide tools and settings. These include your Website Designer, Account settings, and where you'll be able to create Sub-Admins. Sub-Administrators are receiving a lot of improvements with Axis LMS 10.4 – the cap of five sub-admins is being removed so that now, your help is limitless. And thanks to some of the new sub-admin changes, so is your Sub-Admins' as they too now have access to the Axis LMS Helpdesk.
When you're on the System tab, you'll also want to check out the new Admin-User connection link possibilities. After you link your LMS Admin account to a User account, you'll be able to single-click test any of your online courses; and also gain access to some new tools: Live Chat with your users, and UserConnect.
Talented LMS
Axis LMS 10.4 is combining tabs, but it's also introducing a new Talent Management area. LMS Administrators will want to check out this area to start working with Certifications, CEUs, Continuing Education, and Badges.
These are some of the biggest and most versatile tools yet introduced into Axis LMS, and will provide LMS Administrators with new ways to reward and recognize their users' achievements.

Certifications and CEUs enable LMS admins to set up continuing education programs, and offer an entirely new way of certifying users: versatile renewable certifications. Users will be able to accrue CEUs from a variety of different courses and, after earning enough, can apply for the certification, or recertification.
The introduction of Badges builds upon the UserConnect aspect of Axis, and is a key piece of Axis LMS Gamification, and being released with them are Leaderboards, which gives users new methods to connect and compete amongst themselves in their climb up the leaderboard.
Reworked LMS
Behind the scenes, Axis LMS is getting more than a flashy set of tools; Axis LMS 10.4 is also bringing some backend changes to how reports are generated, and some database updates. While most LMS admins won't realize there were any changes behind the scenes, the positive results should be apparent on systems with large number of users for much speedier reports. These backend changes also open up the possibility for a new wave of features in the future; features that would otherwise be too burdensome -if not impossible- using the Axis LMS 10.3 backend architecture.
If you enjoyed this article please consider staying updated via RSS.
This entry was posted on Tuesday, September 20th, 2016 at 11:33 am and is filed under ELearning 101. Responses are currently closed, but you can trackback from your own site.