Learning Cheatsheet - External Video Hosts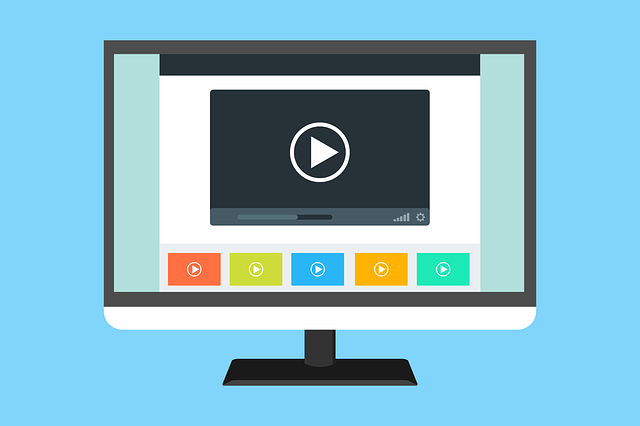 Recorded webinars and video tutorials are becoming an industry standard for a large variety of LMS dependant companies. And for the many different video hosting websites available, Axis LMS is able to provide a method of trackable delivery through a video learning object.

By delivering your video through a video learning object, you're able to add timers, track users' time spent, as well as the other settings common among Axis LMS learning objects.

If you're not already familiar with how to create a video learning object, this video is an excellent starting point, and gives you a broad idea of when you would use some of the different video learning object types.
While it'd be difficult to list every video hosting website in this article, below are a few of the most commonly used, and how you're able to use them inside of a video learning object.
Vimeo
When using a Vimeo video inside Axis LMS, you're going to need to use an embed code. But before you can successfully embed a Vimeo video, you'll need to go to your Vimeo video's settings.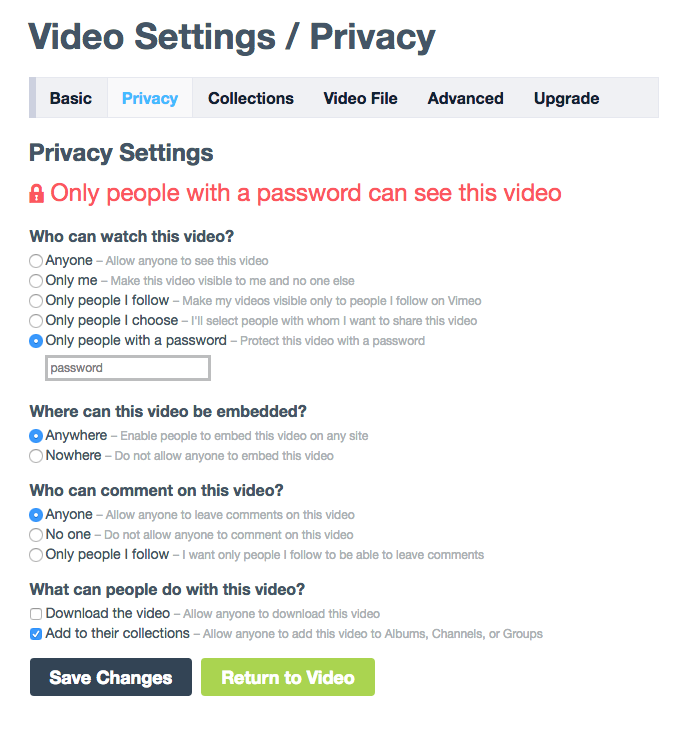 While adjusting the privacy settings of your Vimeo video, you will want to make sure that the "Anywhere" option is toggled. While on this page, you may want to also decide to apply a password to the video, and disable the ability for viewers to download the video.
Once your settings are in place, return to the video, then select the share icon.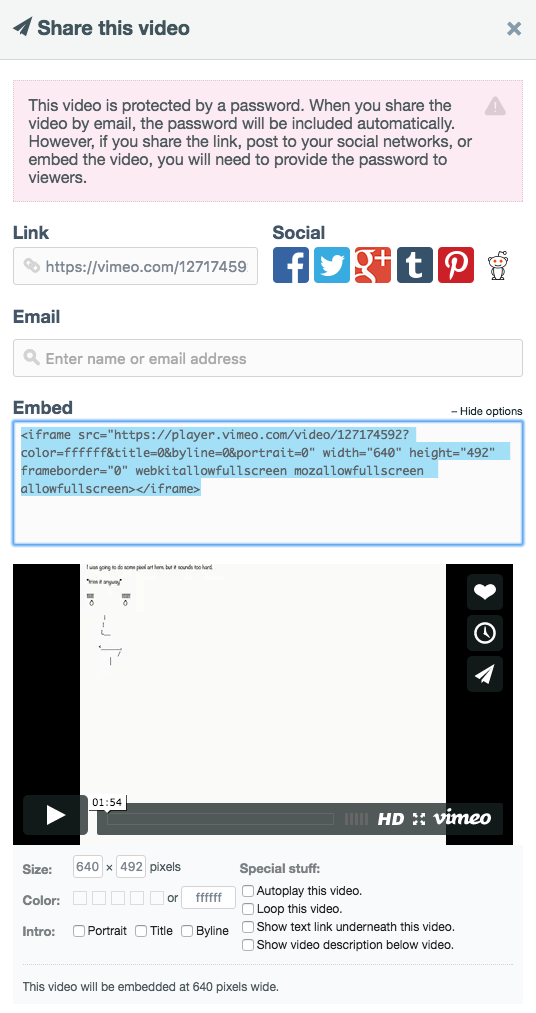 After this page appears, select the entire embed code, which should begin with "iframe" - as pictured above.
Now return to the Axis LMS admin, and create a new video learning object. Select the "Other Video" type, then paste the embed code you copied from Vimeo. Give the learning object a name, and remember to preview it to make sure it's perfect.
YouTube
Integrating YouTube videos is much faster, and doesn't have to be *your* video, but does trade off some privacy options because of it.
While in YouTube, select the video you'd like to watch, and from this page, copy the entire address bar to your clipboard.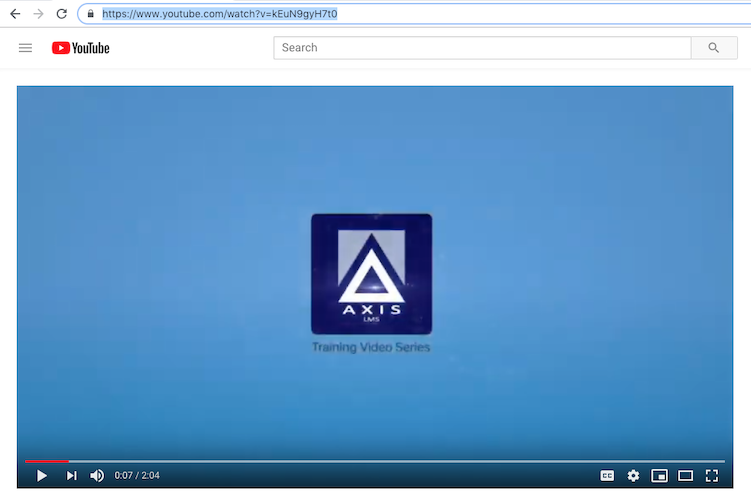 Now you'll head back into Axis LMS, and create a new video learning object, and select "Youtube Video".
Paste in the URL you copied from YouTube, and give the video a name. As always, preview the learning object before adding it into any courses.
Axis LMS File Manager
If you've chosen to store your videos right within the Axis LMS file manager, you won't need to leave the admin view to create your learning object.
Head into your learning objects area, and create a new video learning object, then select the "HTML5 Video" learning object type. When prompted, select the .MP4 video from your files area.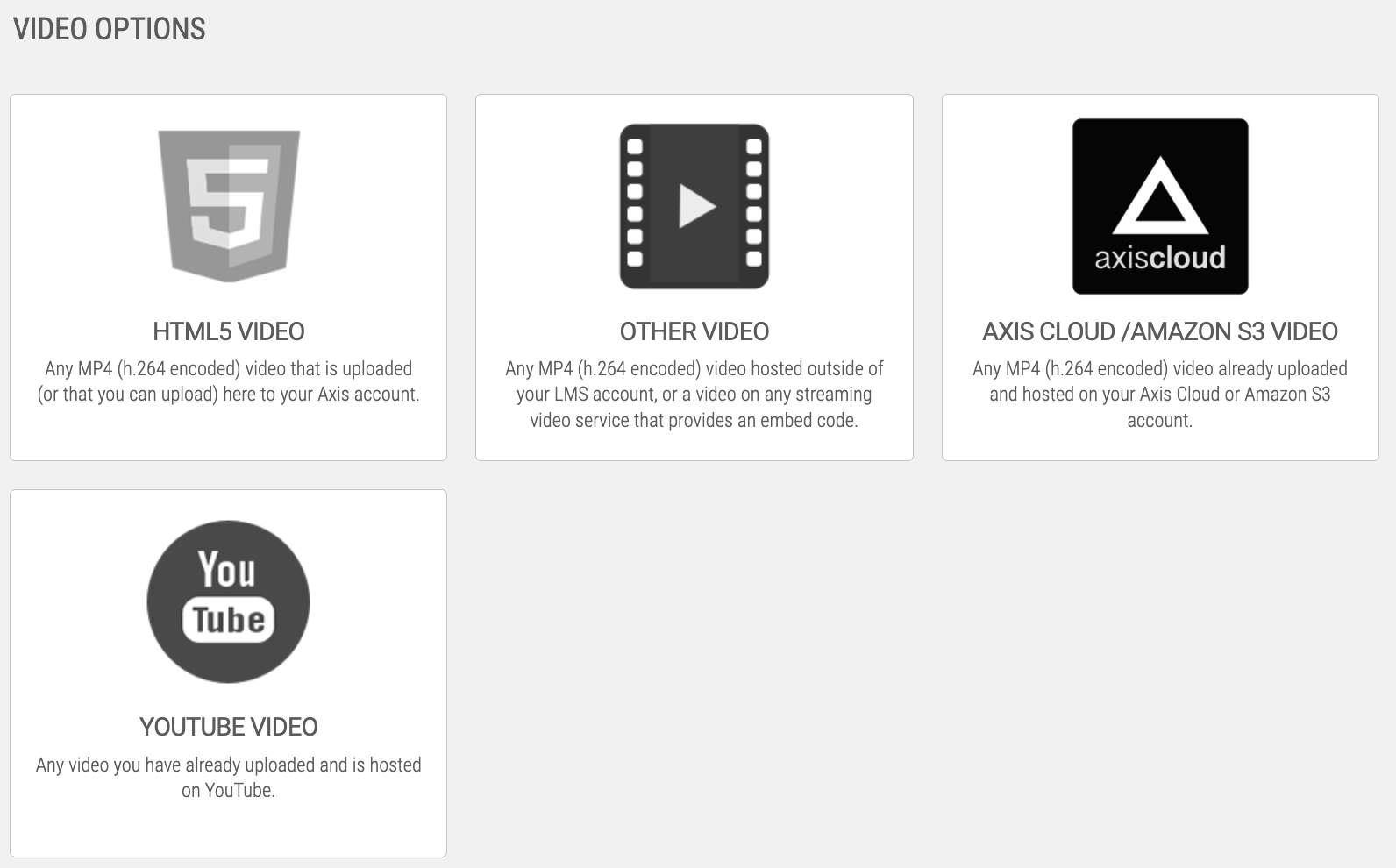 Give the learning object a name, then preview the learning object before adding it to any courses.
Other
There are countless other video hosting websites, but as long as those sites are able to provide an embed link, or have the capability to be embedded, Axis LMS should be able to deliver it. The tricky part may come from finding where your video host provides their embed link.
Once you have the embed link, your video learning object can be created by creating an "Other Video" learning object type, as you did for the Vimeo video.