Recording ILT Meetings in Axis LMS
As Instructor Led Training makes scheduling and delivering live online training more commonplace, the desire to record and repackage those meetings has come with it. If you're using the built-in meeting service, your trainers and/or users can take advantage of a special setting which allows you to dictate which participants can record these meetings.
This article goes over recording using the default video service used in ILT Programs. If you are using a different service, recording may still be an option, but instructions are not included in this writing.
From the admin's perspective, there's very little you need to do. Under your Program's "Virtual Classroom Settings", make sure you toggle the option to allow meeting recordings - either for Trainers Only; or pass the option along to users as well.

With this setting in place, video meetings you create for this Program will have a recording option available to Trainers, Users, or both.




With this setting in place, appropriate parties will have a new option available within their online meeting. Clicking the options icon will display a Record option - the only requirement on their end is a Dropbox login. After the meeting has concluded, participants who chose to record the meeting will find a new file in their Dropbox login.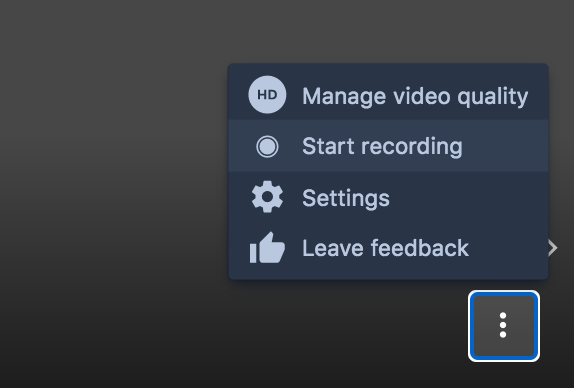 Repackaging the Recording

What you choose to do with the recording is entirely up to you - but if you need ideas, why not consider converting the best recordings into a video objects for use inside your Online Courses. Drag the mp4 version of your recording directly into your Course Builder, and you can quickly create a trackable object from your recorded meeting.