Why Is My First Question Blank on My Quiz in Weblearning 9?
A common question with Weblearning 9.0 is "Why is my first question blank when I take my quiz?" 
The answer is because you have not added Intro Text.
This problem is really only noticeable when you are taking a navigational style quiz (one question per page) rather than a scrolling quiz (all questions).  Intro Text can be applied to all quizzes created after the defaults are set or for specific quizzes.
I will start with setting Intro text for all quizzes.  If you click on your Create tab, then select Setup Publishing Defaults for all Modules.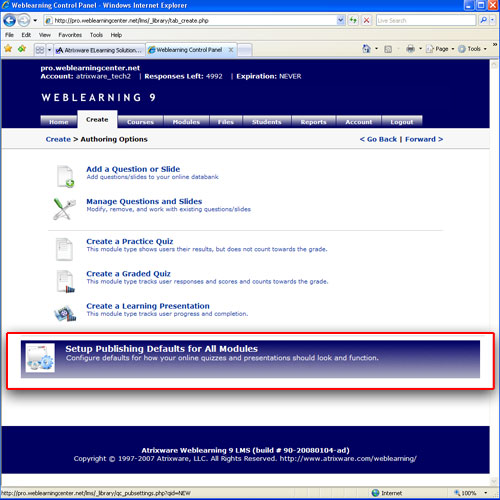 Scroll to the bottom and you will see a section for Intro Text.  You have all of the same editor features and placeholders you would use to customize any course layouts.
For now, I will just put a generic introduction saying "Welcome to Our Course."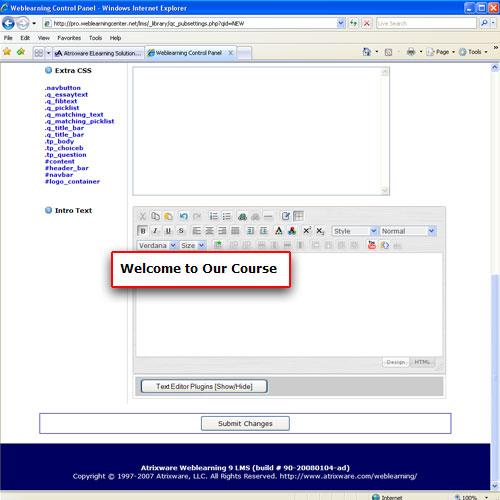 Now click Submit Changes.  You have now set up Intro Text that will be applied to every quiz created from today on.
What if I already have a quiz created?
The default changes do not apply to a previously created quiz so you must add Intro Text to that specific quiz.  Click your Modules tab, then click the properties of the quiz you would like to add the text to.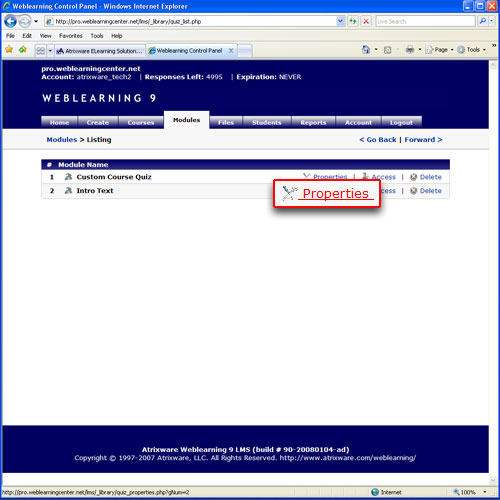 Click your Advanced Settings tab and scroll down to the third category called Intro Text.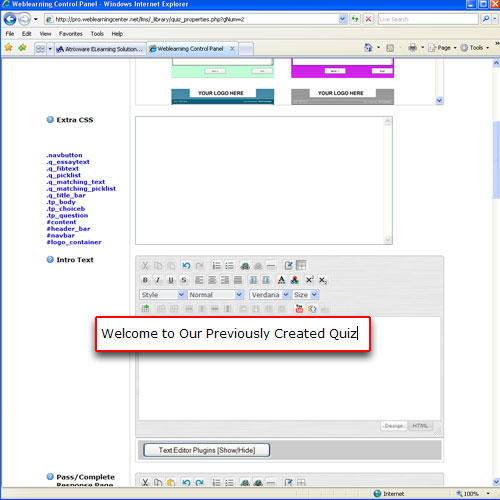 Add your new text here and click Submit Changes.  You can  now preview it by clicking the Courses tab then the portal link of the course that has your quiz.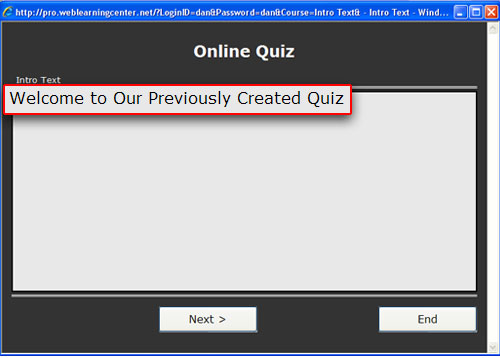 How would I add Intro Text that is specific to a quiz without changing my default Intro Text?
If you already have Intro Text in your default settings, you just need to add Intro Text to the specific quiz.  Once you put Intro Text on the quiz, it will choose this text over the default settings.
If you enjoyed this article please consider staying updated via RSS.
This entry was posted on Friday, March 14th, 2008 at 2:55 pm and is filed under Atrixware 101, Dan, Weblearning. Both comments and pings are currently closed.