Weblearning 9.63 New Features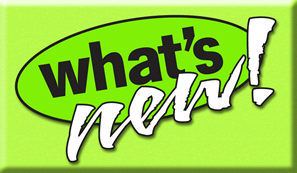 Weblearning 9.63 will be released this week (end of November 2011) — sort of.
First, we will be putting in on the Demo system (demo.atrixware-online.com) for about a week while we iron out any last remaining bugs.
After that, new sign-ups will get the new build, and those owning an Enterprise/Enterprise Gold/Enterprise Platinum system that host the system on their own servers will be offered access to the new build.
Existing hosted customers without customizations will get their systems migrated one-at-a-time to the new build (and consequently during the migration will be moved to a new and improved server hosted over at liquid-web). This will be a process – likely to take about a month to get every system moved. After these are complete, we will move the customized systems over one-by-one.
Our goal is to have everyone migrated to the new build by the end of January 2012.
So now with that out of the way, let me talk about some new features!
The most significant thing you will notice about the new build is that is has an entirely new UI (interface). When you first log in, it will feel familiar, but will most definitely look vastly different. Our goal here was to give the app a fresh new, slick and professional look, and also make it easier to scale it and add new features and plugins so that everything makes sense, flows, is more intuitive, and 'just works' the way you would expect.
Every major area of the Weblearning app now has icons (kind of like the icons on your smartphone or tablet) that get you from section to section. We applied this consistent interface across the entire application to make it as easy as possible for you to find the things you want to access, and to also encourage you to 'try' some new things that were obfuscated or hidden in previous versions. Here is a screenshot of the 'manage course' area as an example: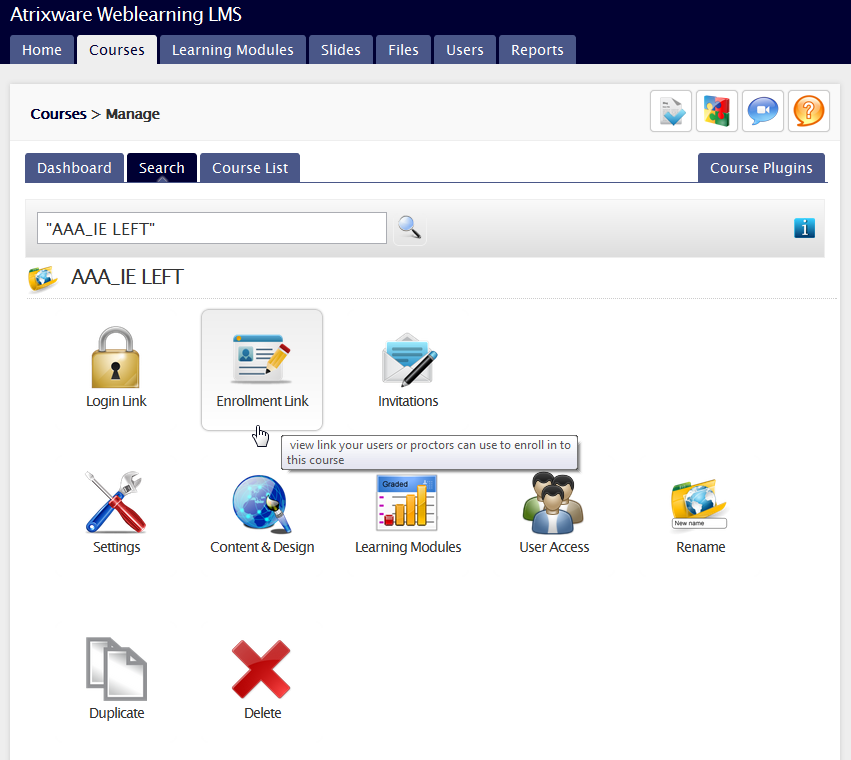 Along the same design idea, we modified the navigational tabs so they are maybe not quite as playful, but more out of the way while still being easy to see and access when you need them.
Talking about new design, we also added new course templates to the new version. In previous versions, your account got set up with a single default course template, which you can modify. In the new version, you still can modify your own template, but you also get access to about a half dozen other templates you can use – each one with a new slicker look, along with a few new placeholders for course completion graph and course average graph. The mix of templates include layouts with tabs along the top, and also left-side navigation, right-side navigation, and even a mobile template. Shown here is the left-side-navigation style, complete with graphs like I mentioned: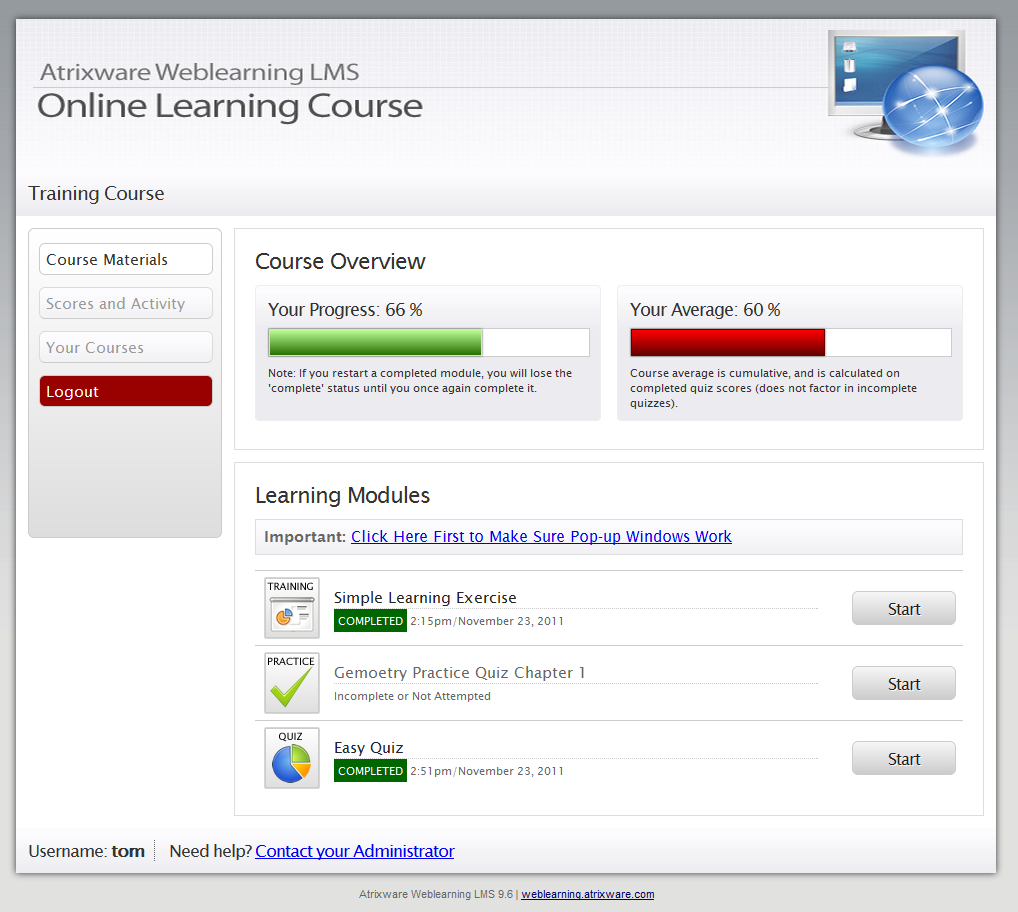 Besides design, the coolest new feature (I think) is the new custom reports. Previous versions had a decent selection of reports, but this new version enables you to create and run custom reports on just about every report area, which includes things like date ranges, matches on multiple user-fields, and much more. Its hard to explain the power of the new reports, but once you have used them, you will wonder how you ever got along without them. Here is a screenshot of the custom report builder for courses: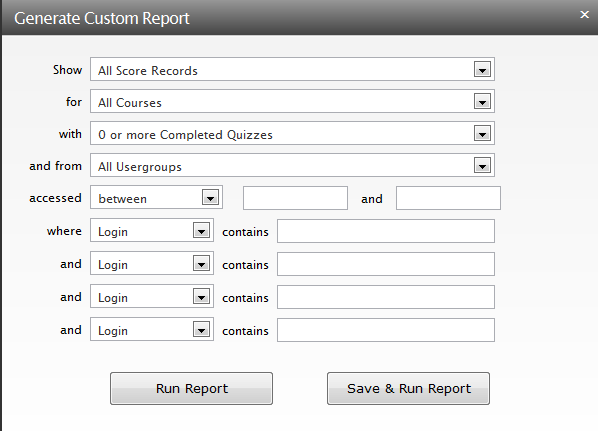 We also worked very hard to improve the on-board help system. As easy as we like to think it is to use, an LMS is inherently a complex system, so there is always room for improved help and usability. So in this version, we added a few things to address that.
First, whenever you navigate to a major section of the interface (home, courses, learning modules, slides, files, users, reports), there is a right-panel area of contextual help for you – which is composed of articles and tutorials that relate to the area you are in, and also recent questions and answers contextual to the area you are in. They are sort-of out of your main focus, but, are easy to access if you get stuck.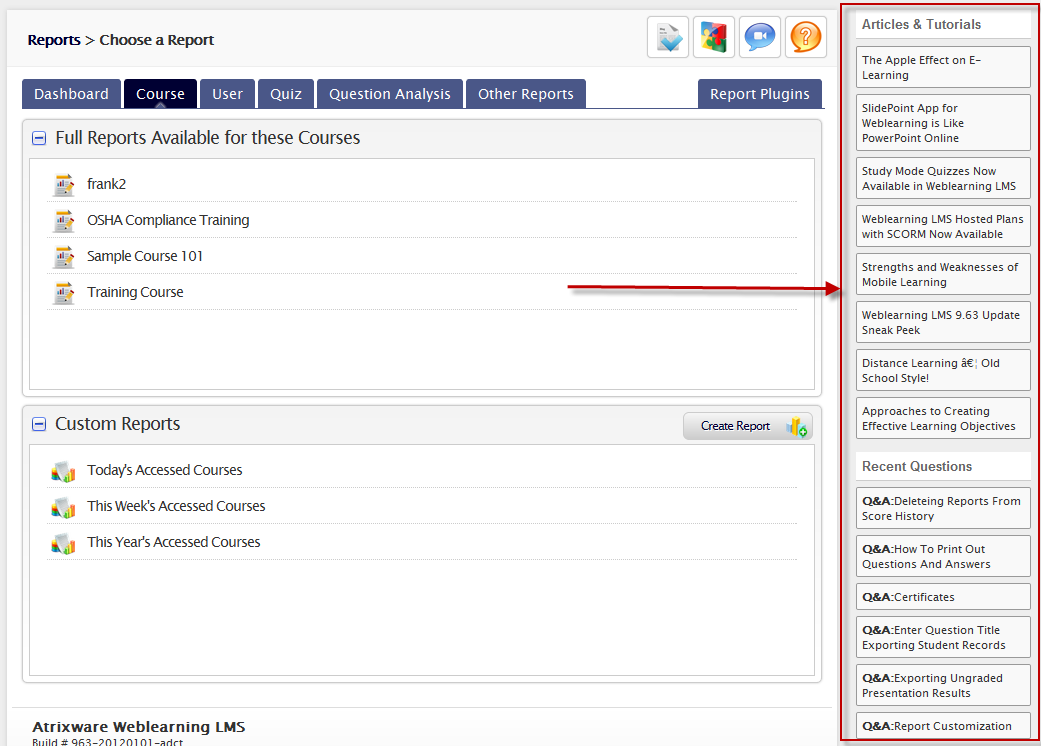 In addition, we added an entire row of icons on the home tab that take you directly to the various help and resources available to you, including a 'Submit Ticket' icon which takes you right into your helpdesk ticketing area for your system – where you can both submit new tickets, and also review older ones (they are all archived and available to you forever).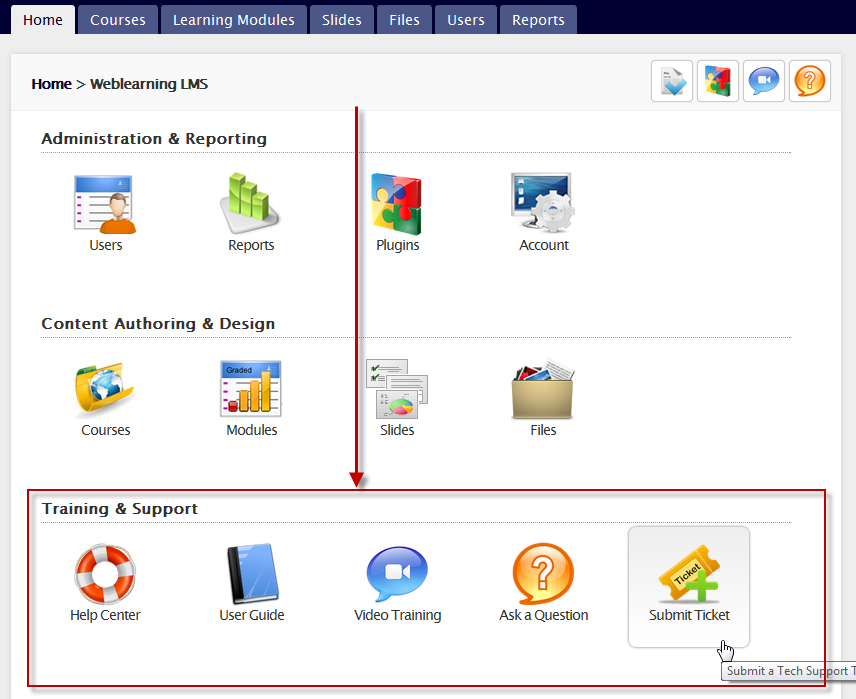 We also added a few new "Extras" on the text editor/designers. It is now very easy to insert and embed full web pages, external videos, and even Amazon S3 videos into your slides, quizzes, presentations and courses. We also reworked the Insert-YouTube-Video feature so that they work on non-flash devices (mobile, iPad, iPhone, etc).
The usual mix of bug fixes and back-end optimization has also been done (although in this round, we did more than usual).
There are dozens of other minor things we added/changed, but as this article is already kinda long (if you have read this far – congratulations!), I will not mention any more.
If you enjoyed this article please consider staying updated via RSS.
This entry was posted on Saturday, November 26th, 2011 at 2:41 pm and is filed under ELearning 101, Test Pro Developer, Weblearning. Responses are currently closed, but you can trackback from your own site.