Using Dynamic Scripting in your Course Designs
Dynamic Scripting is a new feature in Weblearning 9.6. It is quite powerful, and as you may have guessed based on the feature name, it involves 'scripting' (coding).
However, there is a way to use the Dynamic Scripting feature without writing any code, and although you wont be able to get the full advantage by doing so, it is still quite useful.
Firstly, for those of you interested in learning more details on the Dynamic Scripting feature, swing over to the Weblearning Support Page's Product Documentation section and download the Dynamic Scripting Reference.
Now for an example scenario that Dynamic Scripting would be useful. Lets say you have a 5-day course that is a combination of live training and after-class assignments. Each day, after 5pm, you would like to provide your class with access to some additional learning materials that are related to that day.
You could, of course, after each class, go into the course design area of your online course, and add/remove content. However, using Dynamic Scripting will automate the process for you, as I will explain next.
First, access the Design area of your course: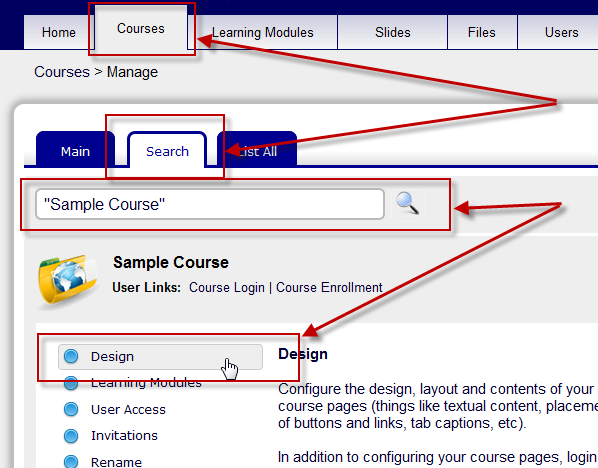 This will open up the course designer. So our basic strategy is to set up 2 basic states of view (what to show if it is 5PM or later, and what to show otherwise). Then, in the section that is after 5PM, show different content for each day.
First, each block you insert will be inserted by clicking the EXTRAS drop-down menu and choosing Dynamic Block (Wizard):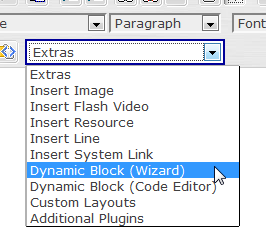 So, lets set up our 2 basic sections. Position your cursor at the top of the main section of the design editor (perhaps remove everything already there),  then click the EXTRAS > DYNAMIC BLOCK (WIZARD) option, and the Dynamic Block Wizard will appear. Fill in the wizard with the following (see screenshot below):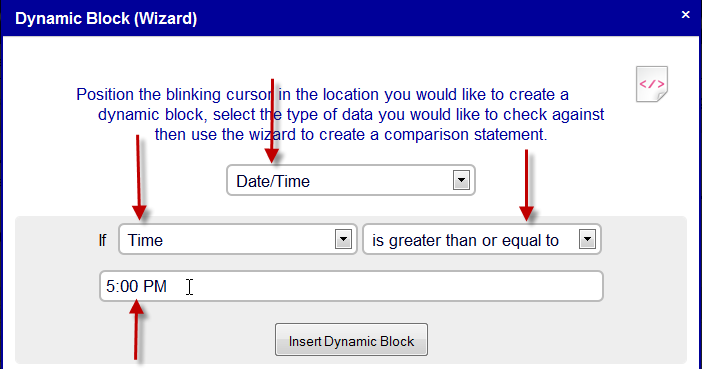 After clicking INSERT DYNAMIC BLOCK, reposition your cursor below that section in  the editor area, and insert another dynamic block the same way using the following values (see screenshot below):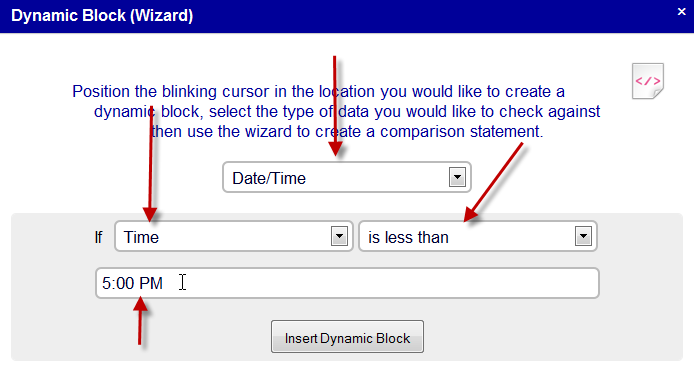 If you have done those steps correctly, your design editor contents should look like this: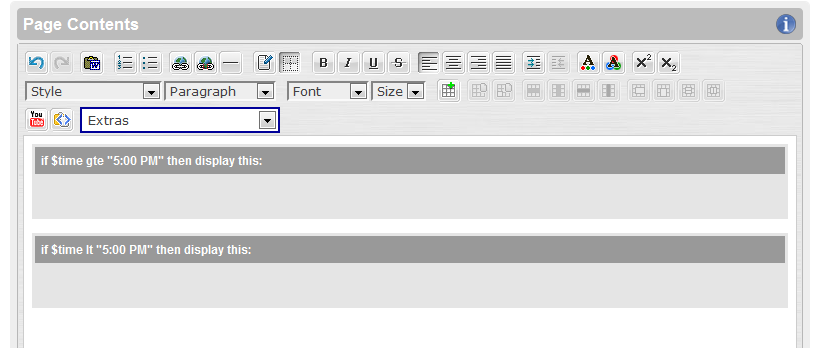 So lets take care of the easy one first – the section that gets displayed if its not yet 5PM. For this example, I will just put a generic message:

In the section that gets displayed after 5PM, we will actually have 5 different things that may get displayed (one for each weekday). So, to accomplish this, for each weekday, position your cursor inside the gray area of that section, and then click the EXTRAS > DYNAMIC BLOCK (WIZARD) option, and fill in the wizard with the following (but alter the day each time):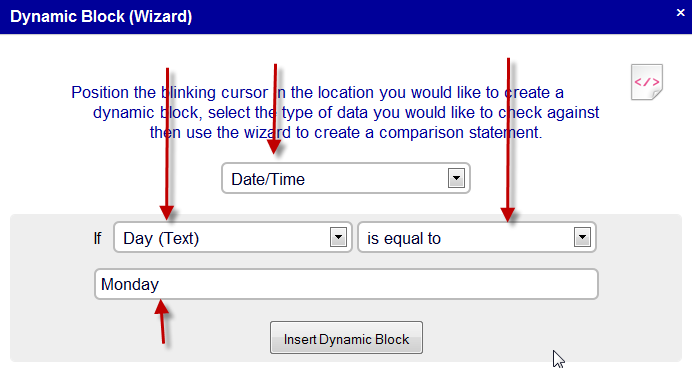 After doing this for all 5 weekdays, your design editor contents should look like this: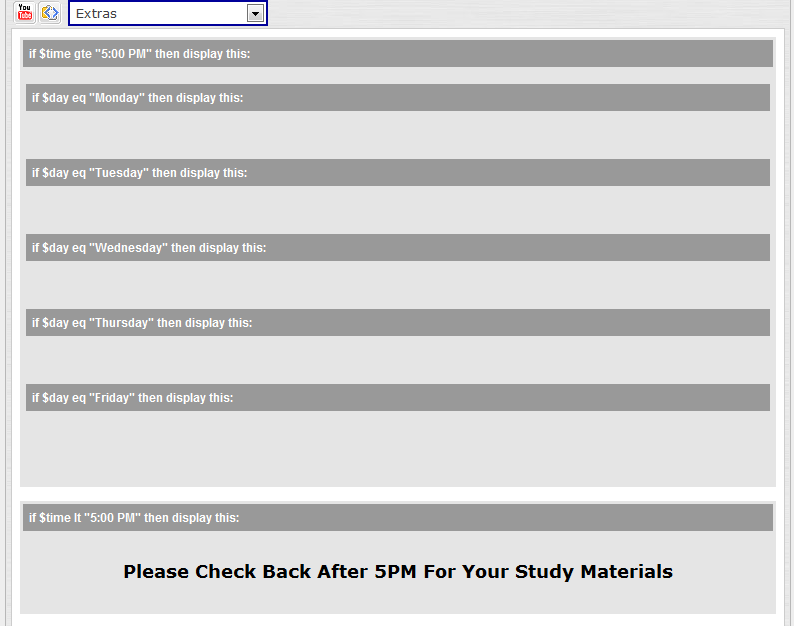 Now we can enter content for each area (for this example, I just entered text passages, but you could of course place specific learning modules, quizzes, videos and anything else inside each section to be displayed):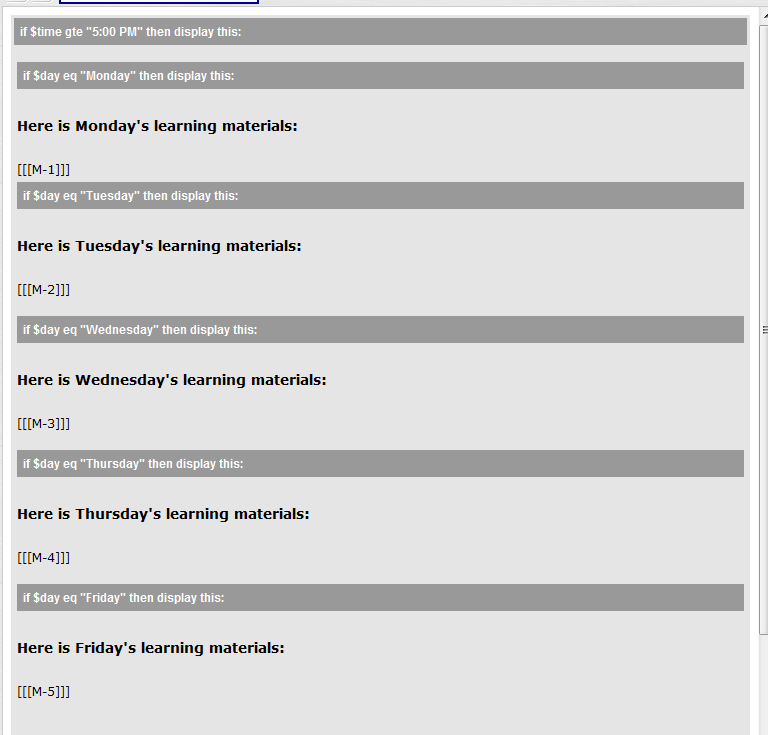 The Weblearning E-Learning System is a powerful, budget-friendly, easy-to-use Online E-Learning System for authoring, managing, and tracking online learning presentations and tests. To try it FREE,  go to the Weblearning E-Learning System Sign-up Form.
If you enjoyed this article please consider staying updated via RSS.
This entry was posted on Friday, March 26th, 2010 at 12:47 pm and is filed under Anthony, Atrixware 101, Weblearning. Responses are currently closed, but you can trackback from your own site.