Using Atrixware Quiz Management Service with Online Quiz Maker
Atrixware Quiz Management Service is an easy online solution for emailing, exporting, viewing, and storing online quiz results published from our Quiz Publishing Software.  This article is going to show you how to publish a quiz using Atrixware Online Quiz Maker that utilizes the Quiz Management Service.
To begin, I'm going to start Online Quiz Maker and from the Quiz Development tab I'm going to Create a New Quiz.  This will open the Create New Quiz window where I'm going to select to create a HTML Quiz.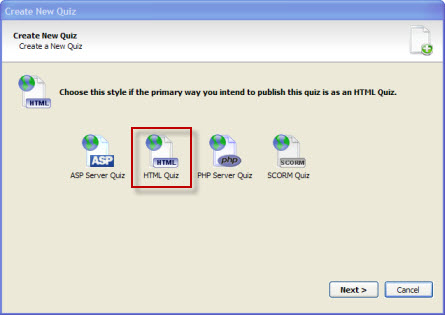 After I've click on HTML Quiz, I prompted to an enter a name for my quiz and optionally a summary.  Once I've entered my quiz name, I'm going to click the Finish button, which will close out the window and bring me back to the Quiz Development tab.  With my quiz selected,  I'm going to click on publish to HTML Quiz from the Task Panel.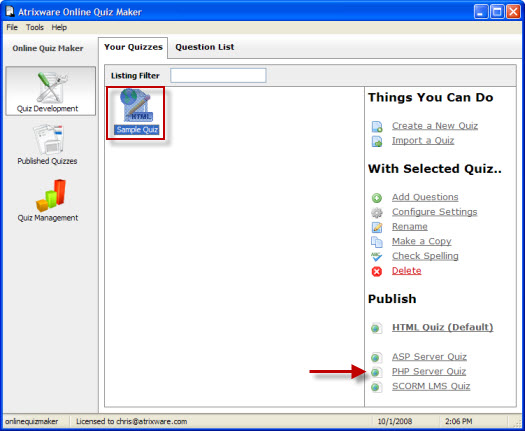 This will open the Publish a Quiz window.  The first thing I need to do is enter a title for my quiz, and optionally I can change the text I would like to have appear at the top of my quiz and the filename that Online Quiz Maker refers to this quiz by.  For this example, I'm going to leave the Visual and Content settings as is, so after I have entered my quiz title I'm going to click the Publish button.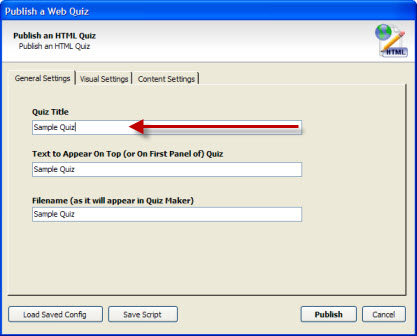 I'm now presented with the option of having my score results emailed to me.  In order to use the Quiz Management Service, I need to have the results emailed to me (once your Quiz Management Service account is active, you can choose to disable email reports and instead view the results online).  I'm going to click on Yes, I Want the Score Results Emailed Here: and enter my email address in the box below.
I also have the option of asking for certain information from the student when the quiz begins (Email Address, Class Name, Instructor, etc).  It is important to note that only the Student Name and Student Email are stored by the Quiz Management Service.  If I select any of the other options, they will be visible in the email that is sent to me when a student completes my quiz, but they will not be available within the Quiz Management Service.
NOTE: If you choose to not ask a student for their email address, their email will appear in the Quiz Management Service as the student's name at their ip address. (i.e. student@127.0.0.1).  You can then edit the students email from within the Quiz Management Service.
I can also configure what the student sees upon completing my quiz.  From the Upon Completion, Show..  drop-down box I can select to display a Complete Summary (which would include all the questions, answers, and explanations), Their Score, or simply a Thank You Message.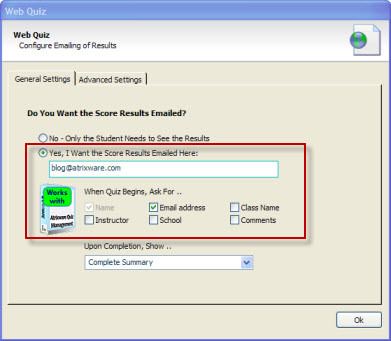 I'll click the Ok button and be presented with a confirmation that my quiz has been published and I can view the published quiz now.  Once a student has completed my quiz, I can click on the Quiz Management tab and login to the Quiz Management Service using the email address I chose to have my results sent to.  By default, the username and password for the Quiz Management Service is the email address I entered when publishing my quiz.
NOTE: It is not currently possible to change the Passing Score for your quiz using Online Quiz Maker.  Therefore, by default, any quizzes utilizing the Quiz Management Service will have the passing score for that quiz set to 70 within the Quiz Management Service – this will not affect your quiz itself, but may affect some reporting from within the Quiz Management Service.
If you enjoyed this article please consider staying updated via RSS.
This entry was posted on Monday, October 27th, 2008 at 1:10 pm and is filed under Atrixware 101, Chris, Quiz Management Service. Both comments and pings are currently closed.