SlidePoint for Weblearning LMS To Be Released
We are just about ready to release our newest plug-in for the Weblearning LMS – called SlidePoint.
The best way to describe it is this – it's like an online version of PowerPoint geared specifically towards e-learning.
In short, SlidePoint enables you to visually create and assemble visually stunning, flash-like e-learning presentations, complete with images, text, video, narrations, and even animation effects – all online, and the end result does not require flash! You can, of course, integrate flash videos if you wish (as well as YouTube videos).
Another cool benefit is – your presentations will also run on mobile devices.
Here is a screen shot of the SlidePoint Editor: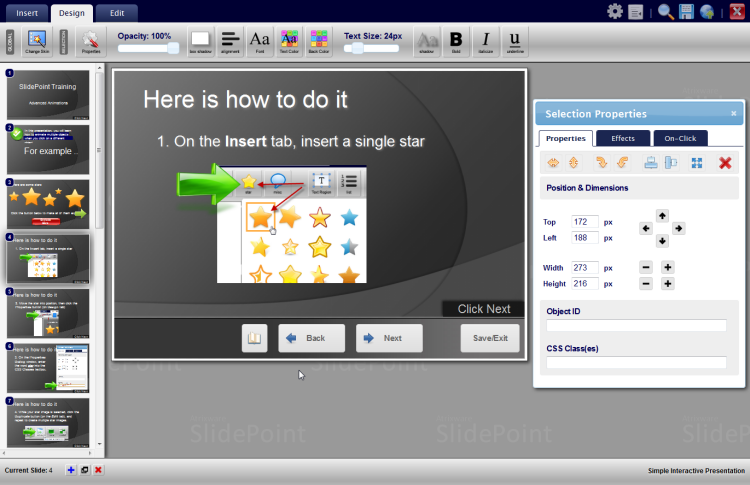 We expect SlidePoint to be available in the next several weeks. In the meantime, here is a sample presentation I created with the (internal) beta version of SlidePoint – not the greatest presentation ever created, but a light sampling of some stuff you can do (and as it's being delivered outside of a course, the save/exit button doesn't function):
Here is another sample presentation
..that demonstrates a custom button bar, as well as the ability to resize and scale the presentation like you can with videos (
even though it is not a video
):
http://bit.ly/rrCVXq
..and this sample presentation talks about some advanced animations like rotate, skew and scale – and does so while advancing automatically from slide to slide (like a video): http://bit.ly/nsocRu
___
The Weblearning LMS is a powerful, budget-friendly, easy-to-use Online E-Learning System for authoring, managing, and tracking online learning presentations and tests (including your E-Learning Lessons). You can read the brochure, or to try it FREE,  go to the Weblearning E-Learning System Sign-up Form.
If you enjoyed this article please consider staying updated via RSS.
This entry was posted on Saturday, August 13th, 2011 at 2:02 pm and is filed under ELearning 101, PowerPoint Quiz Maker, SCORM Quiz Maker, Test Pro Developer, Weblearning. Responses are currently closed, but you can trackback from your own site.