Question and Slide Entrance Effects
New in Weblearning 9.6 are question and slide effects. These are a simple set of effects you can apply to your content that may add some pizazz to your quizzes and presentations (or drive your users crazy if you over-do it).
Slides and questions each have slightly different options, but both are accessed by clicking the ADVANCED button along the top of the main content editor inside the question and/or slide editor:

When working with slides, the effect applies to the entire slide content (although you can apply effects to sections and objects individually via JavaScript, it gets complex and is not as simple as simply picking from a drop-down box, and therefore is beyond the scope of this article). Simply choose the entrance effect from the drop-down list: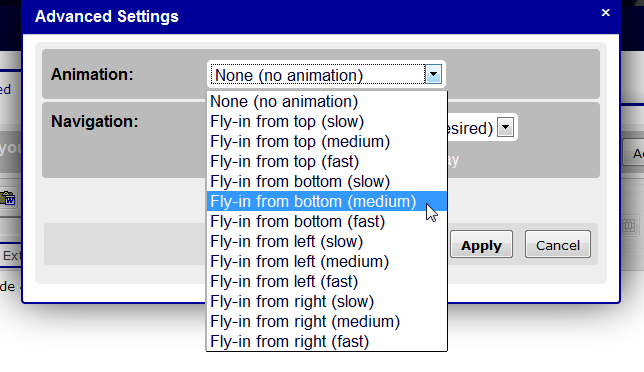 When working with questions, separate effects can be applied to both the question text, and the answer/choice section. For each section, simply choose the entrance effect from the drop-down list: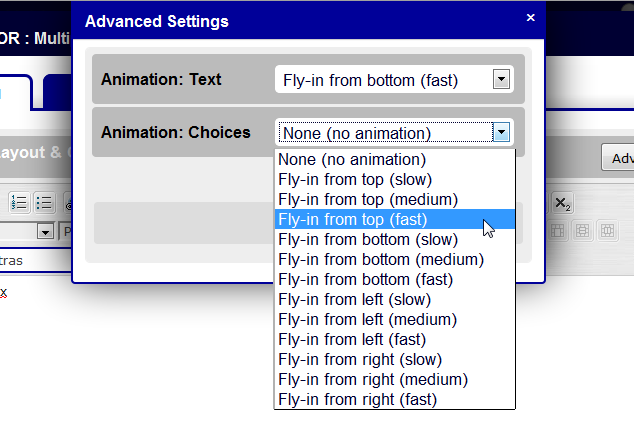 Behind the scenes, when you choose these effects, a bit of JavaScript code is getting written. If you do not know what JavaScript is, don't worry – you don't need to know. However, if you do know what JavaScript is, and know how to code using JavaScript, you can both see the code, as well as add to and/or modify it by clicking the OTHER tab, and then clicking the OPEN EDITOR button in the JavaScript Code section: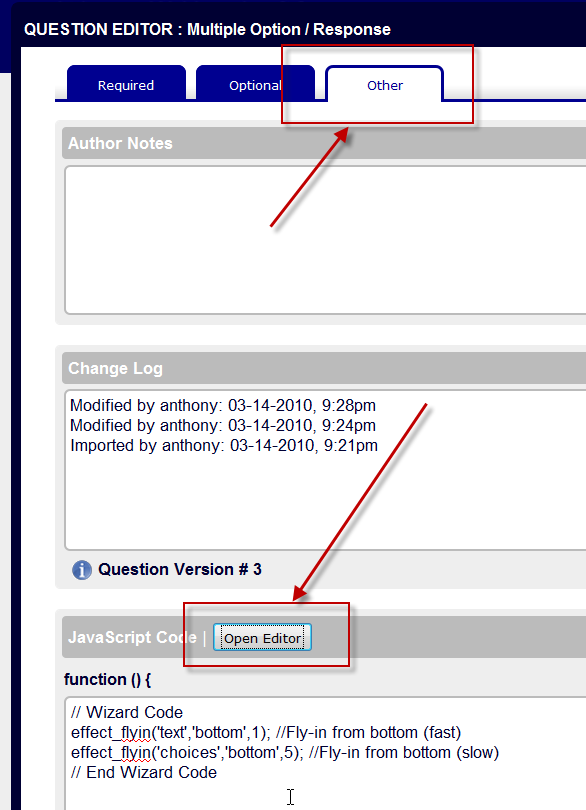 Essentially, any code inside this section will execute each time this question or slide comes into view.
The Weblearning E-Learning System is a powerful, budget-friendly, easy-to-use Online E-Learning System for authoring, managing, and tracking online learning presentations and tests. To try it FREE,  go to the Weblearning E-Learning System Sign-up Form.
If you enjoyed this article please consider staying updated via RSS.
This entry was posted on Wednesday, March 24th, 2010 at 1:45 pm and is filed under Anthony, Atrixware 101, Weblearning. Responses are currently closed, but you can trackback from your own site.