Printing Quizzes with Online Quiz Maker
The Online part of Online Quiz Maker has a double meaning.
First, it means you can create "Online Quizzes" – that can be delivered to your users or students online. But it also means that you use it online (as in, there is no software to install – you access it from your web browser on your PC, Mac, iPad, iPhone, or Android phone or tablet).
Therefore, it may not be obvious that you can use Online Quiz Maker to create really nice printed quizzes as well! In this article, I am going to show you how.
The process of creating a quiz is pretty much the same (you create a quiz, add or import some questions, etc). Once you have the questions added, you can print the quiz from 2 places – from the quiz listing (right inside the Quiz tab):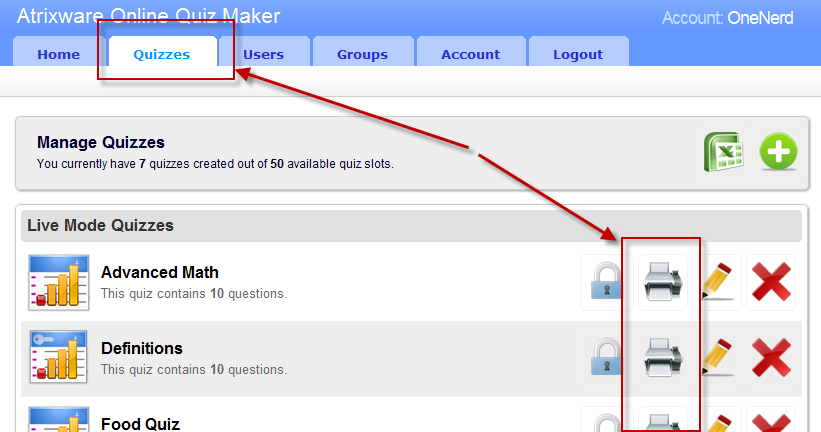 .. or from the Edit Quiz > Dashboard: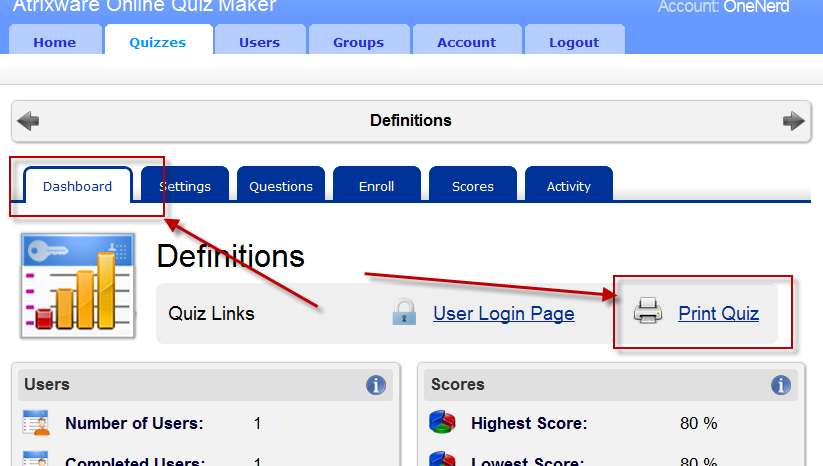 When you click the PRINT button or link, the print preview screen will appear – which also includes a toolbar along the top that will enable you to do a few cool things: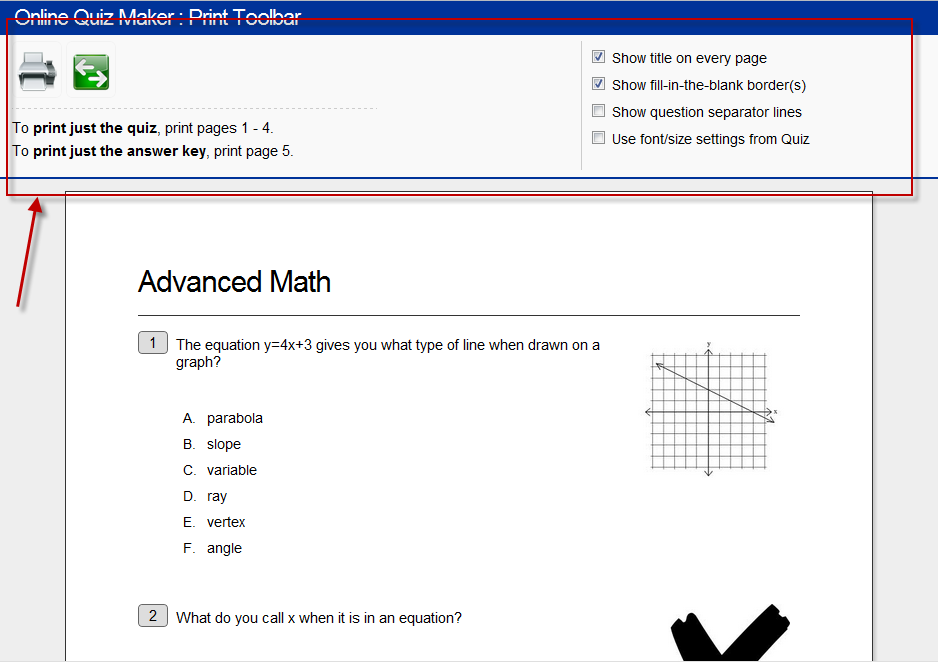 From left to right:
Print button: Well, this sends the quiz to your printer
Shuffle Button: This shuffles the questions (button only appears if you have question shuffling turned on in the quiz).
Page Numbers: Tells you which pages to print if you just want to print the quiz, or just want to print the answer key.
Show Title on Every Page: Title always appears on 1st page, check this box if you want title on all pages.
Show Fill-in-the-blank borders: Check this box if you want a square box section for students to write in their fill-in answers.
Show Question Separator Lines: Check this box to draw a line in between each question
Use Font/Size settings from Quiz: Check this box if you want the font settings you configured for the quiz to be used instead of defaults.
So a typical routine might be to bring up the print preview, print off 5 copies of the quiz and 1 answer key, then click SHUFFLE, then print off 5 copies and 1 key from that variation, rinse, repeat! You get the idea -
Another useful thing worth mentioning – many of you want a section along the top of the first page of the quiz so students can enter in their name, date, etc. This is achieved by entering in what you want to appear in the Quiz Instructions field. Information on how to do that is here: http://online.quiz-maker.net/question/21/13424/
Online Quiz Maker is a budget-friendly, easy-to-use Online Quiz Maker system. To get a FREE account,  go to the Online Quiz Maker Sign-up Form. You may also be interested in the Online Quiz Maker for Schools system.
If you enjoyed this article please consider staying updated via RSS.
This entry was posted on Wednesday, March 2nd, 2011 at 10:59 am and is filed under ELearning 101, Online Quiz Maker. Responses are currently closed, but you can trackback from your own site.