Printing a Certificate from the Quiz Management Service
It's easy to create, send, and print certificates for your students using the Quiz Management Service.  By just entering a little bit of information about a student, you can easily generate a certificate that can be printed directly from your web browser or emailed to yourself, the student, the student's parents, or anyone else with a valid email address. Using the Quiz Management Service's certificate feature, you're not limited to sending certificates to only students who have completed quizzes in the QMS – you can send certificates to any of your students by just entering their data.
In this article I'm going to walk your through how to create, print, and email your first certificate. To get started, log into your QMS account and click on the Create Certificate button located on the home page.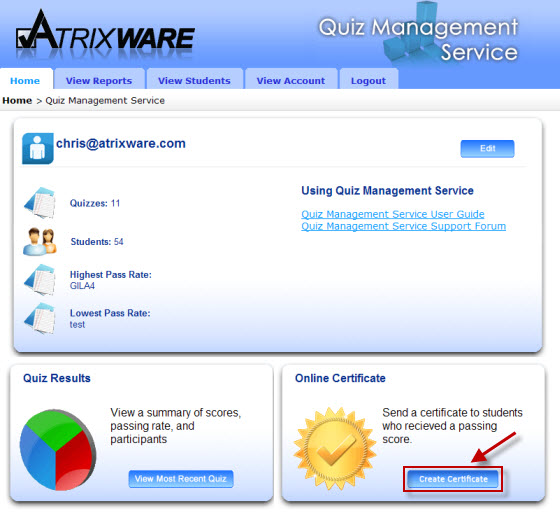 Clicking on the Create Certificate button will open up the Create a Certificate screen.  On this screen, you will be prompted to enter the name of the student (as you would like it to appear on the certificate), the email address where you would like the certificate sent, the name of the Quiz / Test (as you would like it to appear on the certificate), and the date of completion (as you would like it to appear on the certificate).  By default, the current date will automatically be filled in for the date of completion. Once you have entered each of the required pieces of information, click the Create Certificate button to generate the certificate.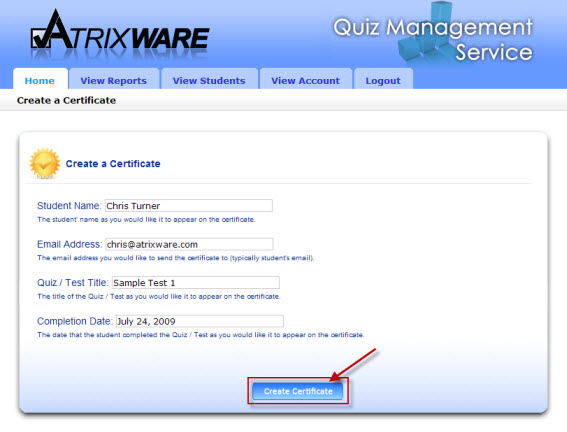 After clicking the Create Certificate button, your student's certificate will automatically be generated and displayed for you in the browser window.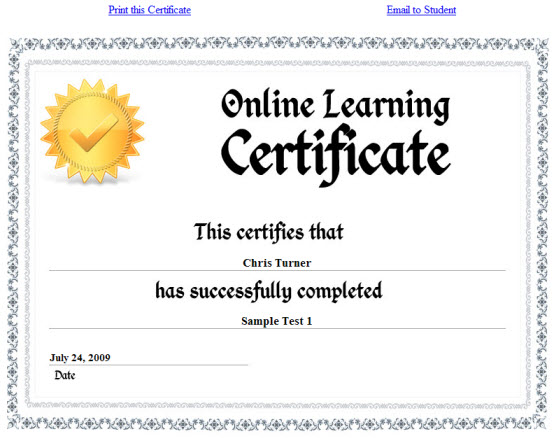 To print the certificate, click the Print this Certificate link located above the certificate.  This will open the certificate in a new window (or tab, depending on the browser and settings you are using) with no other content than the certificate itself.  To print the certificate, select the Print option for your browser.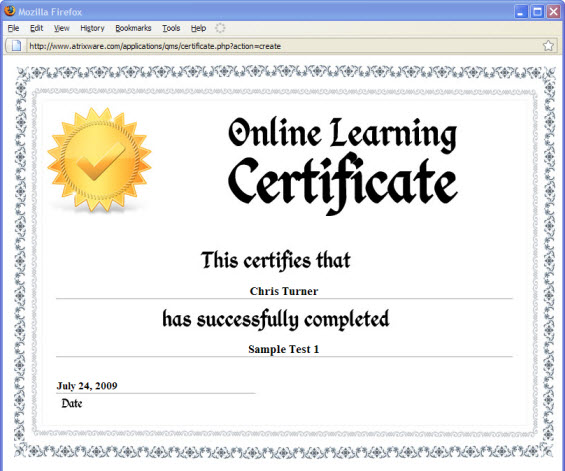 To email the certificate to the email address specified in the previous step, click the Email to Student link above the certificate.  The certificate will then be automatically be sent and a message will be displayed indicating that the certificate has been sent.

The student (or whomever owns the email address you entered to receive the certificate) will receive the certificate as an email, which they can then print out and/or save for their records.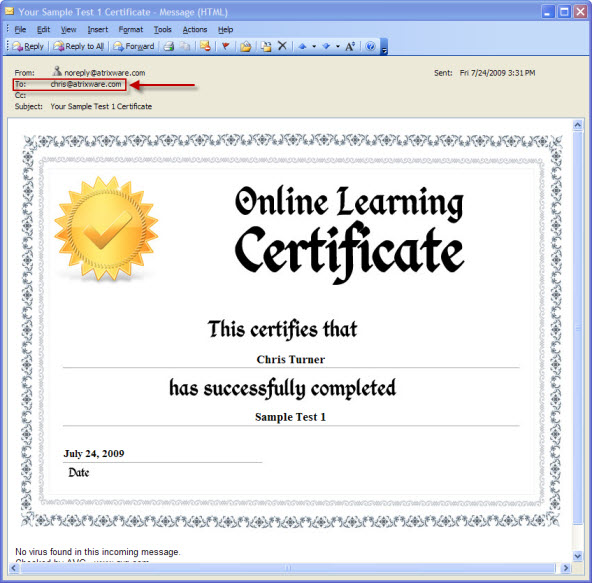 To send another certificate or to return to the QMS Home Page, click the Home link from the menu bar at the top.
The Quiz Management Service is compatible with PowerPoint Quiz Maker, Easy Quiz Maker, Flash Quiz Maker, Online Quiz Maker, and Test Pro Developer.
If you enjoyed this article please consider staying updated via RSS.
This entry was posted on Friday, July 24th, 2009 at 2:36 pm and is filed under Atrixware 101, Chris, Quiz Management Service. Both comments and pings are currently closed.