Print Quizzes using Weblearning E-Learning System
It may not happen often, but occasionally you may have a need to print off a quiz (or even a presentation) for a user, or perhaps even for prototyping purposes.
Weblearning 9.6 introduces a new feature to do just that – enable you to easily print off a quiz.
Keep in mind that Weblearning is not designed specifically to create printed quizzes, so you wont have the plethora of options as you do for configuring the quizzes for online delivery.
To access the print function, click on the LEARNING MODULES tab, and then list the learning modules in the LIST ALL tab, and click the EDIT button next to the learning module you would like to print: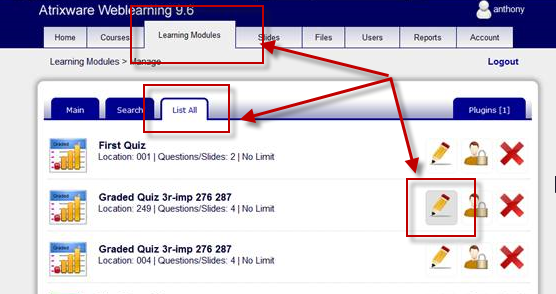 This will open the learning module up in edit mode. From here, click the SLIDES tab, and then finally, click the PRINT button to print off the learning module:

Quizzes will print out nice almost every time. Presentations will print out nicely for the most part, but if you have sophisticated layouts the output may not be 100% perfect.
The Weblearning E-Learning System is a powerful, budget-friendly, easy-to-use Online E-Learning System for authoring, managing, and tracking online learning presentations and tests. To try it FREE,  go to the Weblearning E-Learning System Sign-up Form.
If you enjoyed this article please consider staying updated via RSS.
This entry was posted on Tuesday, February 8th, 2011 at 10:28 am and is filed under Weblearning. Responses are currently closed, but you can trackback from your own site.