Online Quizzes 101: Sequencing Questions in Weblearning
There are times when you want to shuffle the question order of your online quizzes (to prevent cheating or memorization, for example). However, there are also times when you want to make sure you deliver questions (and slides) in a specific order. In this article, I will discuss the latter.
When you enter in questions or slides into your Weblearning account, each question is given a 'random' sequence number (you will not find any 'sequence number' data filed on the question entry form).
The place you will be able to find the sequence datafield is in the question listing area. To get there, click CREATE > MANAGE QUESTIONS & SLIDES > UPDATE LIST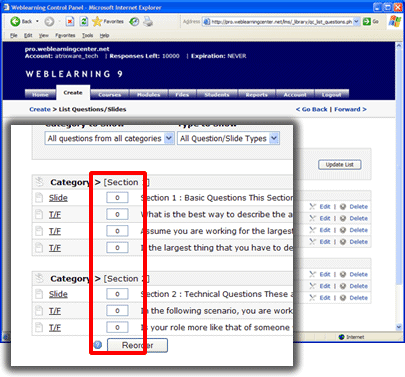 You will see the sequence number boxes next to each question/slide. To sequence the questions and slides, simply type in the sequence number for each one, and then click the re-order button. Note that each 'category' has its own set of sequencing (as you can see in the screen capture below):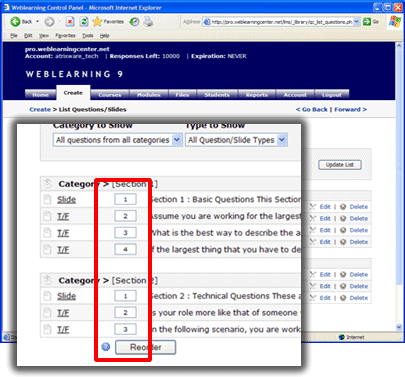 The next step is to publish your quiz or presentation. To do this click CREATE > CREATE A PRACTICE QUIZ (or one of the other create options to make an online quiz or online presentation).
Once there, enter your quiz title, and then you will need to specify each category of questions you want to pick, in the order you want them displayed. You will need to pick the "All" option for each category (as opposed to a specific number) to indicate you want the questions and slides pulled from the question bank in sequence (specifying a number will result in the items getting pulled randomly).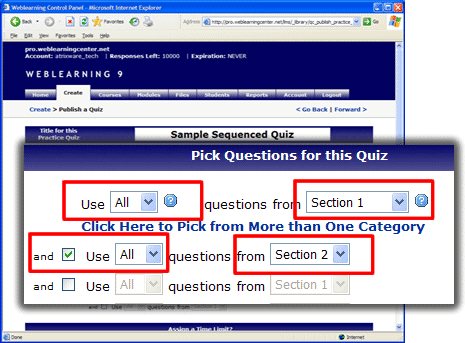 In my example, there are two categories ("section 1″ and "section 2″). As you can see in the example above, I have specified to pick "All" questions from "Section 1″, and then pick "All" questions from "Section 2″. The system sees this as: "Pick All Questions from Section 1 in sequence, and then pick All Questions from Section 2 in sequence".
Publish the online quiz by clicking the Publish Quiz button.The final thing to do is make sure your quiz is not set to shuffle the order of questions and slides each time it is viewed. To do this, click the MODULES tab, and then click the PROPERTIES link next to the quiz or presentation you just published.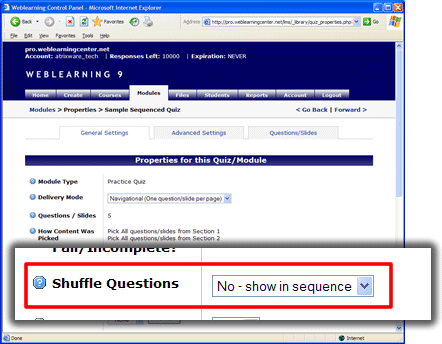 Scroll down a bit and make sure the 'Shuffle Questions' setting is set to "No – show in sequence".
That's it. Now place your quiz or presentation into a course, and you are ready to go.
If you enjoyed this article please consider staying updated via RSS.
This entry was posted on Friday, February 8th, 2008 at 3:14 pm and is filed under Anthony, Atrixware 101, Weblearning. Both comments and pings are currently closed.