Importance of Usability in E-Learning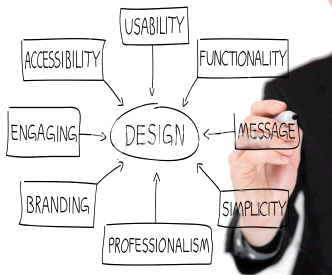 Usability is a very important thing to take into account when designing your e-learning content (says 'captain obvious'). No really, have you looked around? This simple principle has seemingly escaped the attention of many e-learning offerings (I suppose in exchange for the "let's just get something out there" mentality).
One of the best resources on web usability standards (and you are creating e-learning for the web, right?) is a site called useit.com and I urge anyone interested in this topic to visit this site.
The ultimate goal is to enable the same online learning presentations, online quizzes or study guides to be used by anyone in your target audience. Online learning presentations and online quizzes have to accommodate for this diversity to create a pleasant experience for all users. With mLearning now in the mix, consideration for all kinds of devices (in all shapes and sizes) needs to come into play.
User interaction is a (or maybe the) key to the effectiveness of your e-learning. By adding some animations (I would say Flash animations, but that would not make it mLearning compatible – so now it's HTML5 animations), it is possible to generate a more interesting and interactive experience for your visitors – but don't over-do it (not everything needs to fly in from all sides and look like an object storm).
Give your user something else to do besides just watch, or just click Next, Next, Next … Here's an idea – for every 5 to 10 minutes of slides, throw in a few quiz questions (with immediate feedback telling the learner if they answered correctly or not). If you are doing this inside our Weblearning E-Learning System, check out this article on how to do that.
When designing e-learning with text heavy sections, it is very important to keep paragraphs relatively short and try to limit yourself to about 10 words per line. Split up blocks of text with images and design elements (read this article for some sources of royalty-free images). Try to cover one very specific piece of a topic per slide (if you can prevent the user from having to scroll to view the content, that's best).
Here is something that you may not have realized: the ability for you (and your learners) to scale text and image size by using ctrl + (Windows) or command + (Mac). Knowing this, make sure you test your e-learning content and make sure your materials will scale properly when users perform these keystrokes – and ensure a pleasant experience for all users.
___
The Weblearning E-Learning System is a powerful, budget-friendly, easy-to-use Online E-Learning System for authoring, managing, and tracking online learning presentations and tests. To try it FREE,  go to the Weblearning E-Learning System Sign-up Form.
If you enjoyed this article please consider staying updated via RSS.
This entry was posted on Thursday, March 10th, 2011 at 9:20 am and is filed under ELearning 101, Weblearning. You can leave a response, or trackback from your own site.