How To Convert PowerPoint E-Learning Presentations into Movies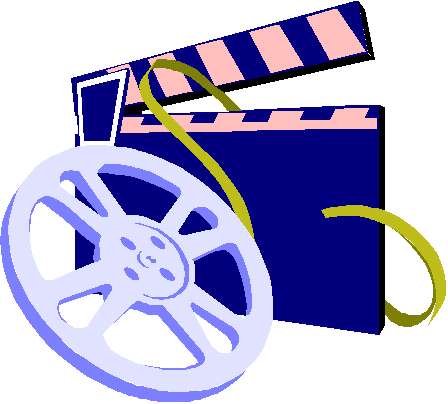 One of the greatest things about PowerPoint is that they are always working to make it better.  A new version means new changes.  New features and options that give the user more freedom than ever before.  With PowerPoint 2010 those of us in the E-Learning community have even more to be excited about.  Because with this new version we finally have the ability to covert our E-Learning presentations into movies with one simple step.
The reality is that it has always been possible to create a movie from a PowerPoint presentation.  The problem is that up until now the process was long, laborious and complicated.  It also required the use of additional software as well as some level of technical know-how.
Today?  This is no longer the case and I am thrilled!  Now with one simple step you can save your presentation into a movie format that you can use again and again.
What to know how its done?  No problem!
There are two ways to save your file in a movie format. 
The first way is through the "Save As" command in the file menu.  Here's how is done (to change things up a bit, I am using screens from an Apple Macintosh).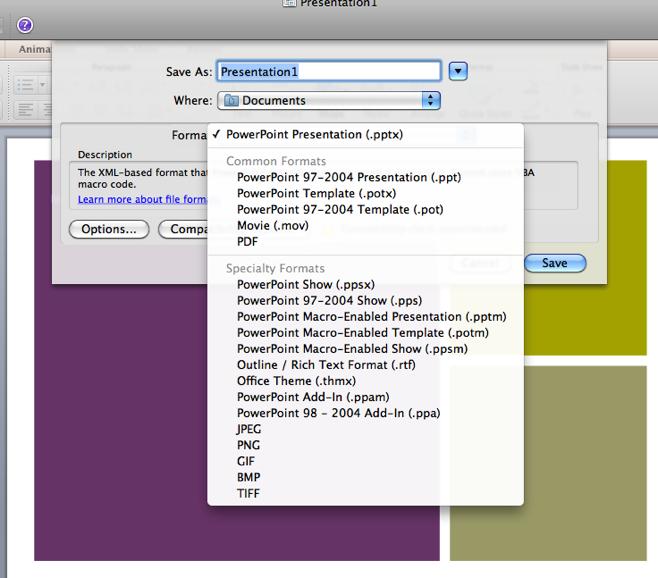 Steps for converting your PowerPoint presentation into movie format through "Save As" command.
Step 1:  Locate and open the "File" menu at the top left hand side of your screen.
Step 2:  Choose "Save As" from the list of options.
Step 3:  The menu shown at left will open.
Step 4:  Click on the "Format" drop down box.
Step 5:  Choose "Movie" from the list of options.
Step 6:  Click Save
That's it! 
Your file will be saved into this new format for you to use.
But, remember when I said that there were two ways to convert your file?
Here is the second, and its actually the shorter of the two.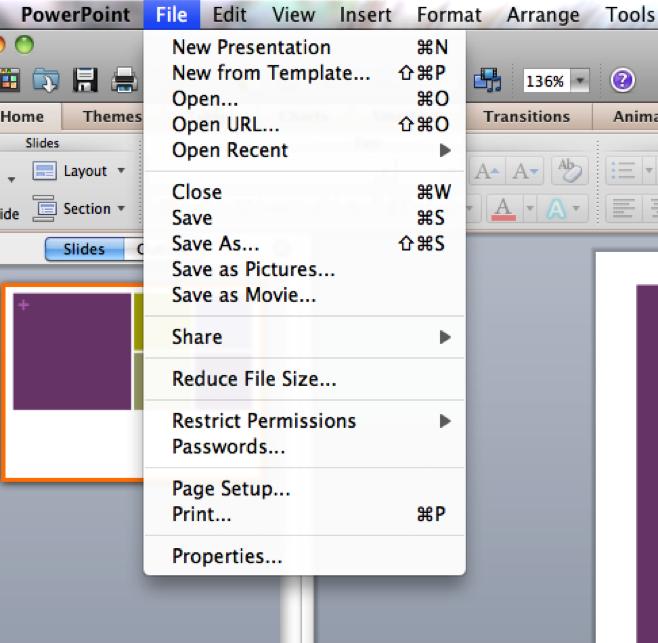 Remember the "File" menu?  Well, when you open the file menu you have the option of saving your presentation as a Movie.  Simply click the "Save as Movie" option and you are done!
It's really that easy and I love it!
But here is another tip, from one educator to another. 
Before you save your presentation as a movie, make sure that you take a moment to save it in a standard PowerPoint format. 
Yes, you will have two versions, but creating this kind of a "master" copy allows you to go back an make changes whenever you need to.  The last thing that you want is to spend hours creating a presentation, save it as a movie and then realize that you need to make a change.  No one wants to start over from scratch on something they have already done!
So with all this good news, what's the 'catch'? Well, the catch is that the format PowerPoint converts your presentation into is .mov – which is not typically viewable in a web browser (without a plugin, that is).
While some of your end users may be able to view it, it is far from the utopia of Flash (.swf) and now HTML5 video, which combined are viewable by just about everyone.
So what can you do? Well, the easiest thing (which is FREE) is to upload it into your YouTube account, which will do the conversion for you, and make it viewable to pretty much everyone on the planet (YouTube kindly does all the work and makes sure your video can be viewed on mobile and desktop web browsers).
Once you have done that, you can easily insert YouTube videos into your Weblearning LMS account (from any design editor, simply click the insert youtube video button), or pretty much any other content management system.
___
The Weblearning Learning Management System is a powerful, budget-friendly, easy-to-use Online E-Learning System for authoring, managing, and tracking online learning presentations and tests. To try it FREE,  go to the Weblearning E-Learning System Sign-up Form.
If you enjoyed this article please consider staying updated via RSS.
This entry was posted on Saturday, May 7th, 2011 at 11:34 am and is filed under Atrixware 101, ELearning 101, PowerPoint Quiz Maker, Weblearning. Responses are currently closed, but you can trackback from your own site.