Five Ways to Get Users to Your Online Courses

There are numerous ways you can get users to your Online E-Learning Courses inside the Weblearning E-Learning System. In this article, I will show you 5 ways.
1. Send them an Invitation
The invitation mechanism inside your Weblearning E-Learning System account is very capable. You can use it to both send invitations, and track who has / has not yet been invited. To access the invitation mechanism, go to the edit screen for a course (COURSES > LIST ALL, click the EDIT button next to course, then click the Invitations menu option: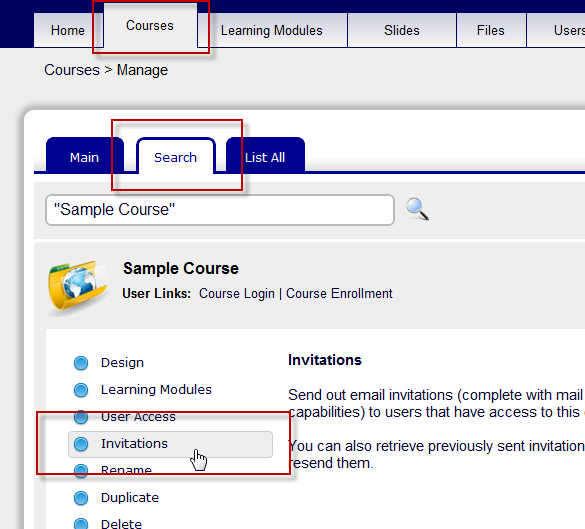 Once there, you will be able to compose an invitation email, and select the people to send it to. You can send it to multiple people, or just a single person. The list of people is divided into who received an invitation already, and who didn't. You can also view all invitations that were sent out (to whom they were sent, when each one was sent, and the exact contents of the invitation).
2. Email them a Link
You can also easily email them a link to the course (using your normal email application). To get the link for a course,  click COURSES > LIST ALL, then either click Course Login to get the login link to the course, or Course Enrollment to get the enrollment link (if you are allowing users to enroll themselves).
3. Send them to the Course Listing Page
Your Weblearning E-Learning System has a course listing page – this is one of those relatively unknown features. The url of the course listing page for your system is simply the root system url (something like www.yoursite.com, or yoursite.weblearningsite.com). You can also get the link by clicking COURSES > MAIN, and you will see it in the Quick Links section to the right.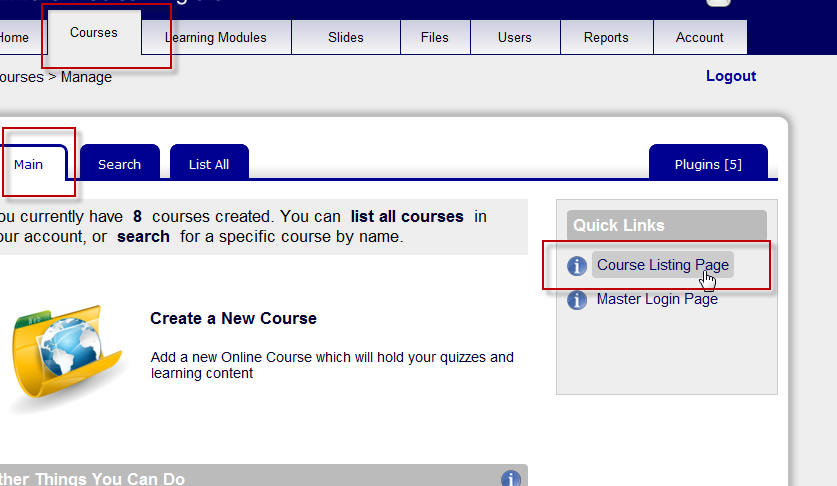 4. Send them to the Master Login Page
Here is another relatively unknown feature. If you would like your users to be able to go to one place to see all courses they have been enrolled in, you can send them to the Master Login Page. When they log in here, they will be shown a list of all courses they have access to – each one just a click away. Handily enough, the Master Login Page link is right below the Course Listing Page link I just talked about in #3 (see the screen-shot above).
5.  Put a Link on Your Website
Finally, can also place a link (or links) on your website – to any of the above places actually. So you can put a link on your website that points to any particular Course Login Page or Course Enrollment Page, or the Course Listing Page, or the Master Login Page. To do this, you will need access to your website files to make changes.
In a future article, I will talk about enrollments vs. logins, and some ways to automate enrollments to ease the administrative burden – like mass enrollments, and enrollments via a shopping cart.
___
The Weblearning E-Learning System is a powerful, budget-friendly, easy-to-use Online E-Learning System for authoring, managing, and tracking online learning presentations and tests. To try it FREE, go to the Weblearning E-Learning System Sign-up Form.
If you enjoyed this article please consider staying updated via RSS.
This entry was posted on Tuesday, March 29th, 2011 at 12:31 pm and is filed under ELearning 101, Weblearning. You can leave a response, or trackback from your own site.