Emailing a Web Quiz
Easy Quiz Maker 9 makes it very easy to email a quiz to a recipient (or multiple recipients).
First, a checklist of what you will need
1. Easy Quiz Maker 9
2. Microsoft Outlook (2000 or better)
Assuming you have already created a web quiz inside of Easy Quiz Maker, the next step is to highlight the web quiz you want to email, and then click the EMAIL button on the ribbon toolbar (shown below):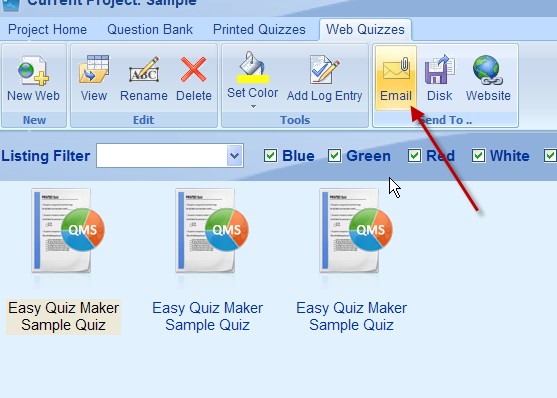 This will bring up the email form: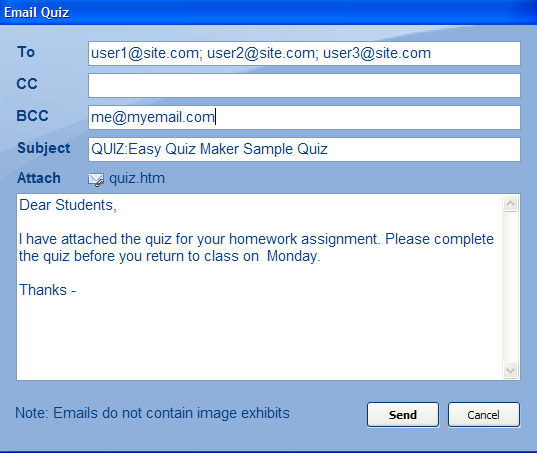 You will notice that I ..
1. entered multiple recipients in the 'to' field — which can be done by using a semicolon in between each recipient.
2. I Blind Carbon-Copied (BCC) myself so I will receive the same email.
3. I changed the default email message (which by the way, now becomes the default message until I change it again).
Here is the email I received: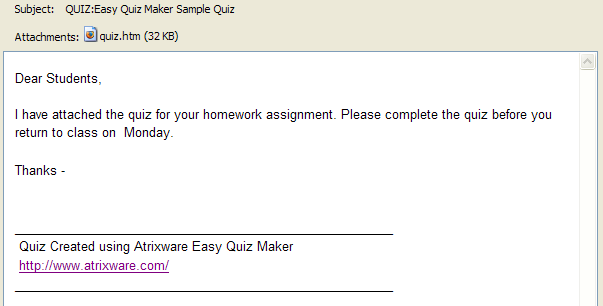 As you can see, the quiz is sent as an attachment (quiz.htm).
Now, when sending a quiz via email, there are a few things worth knowing:
1. The emailed quiz cannot contain any images ~ it it does, the images do not get sent with the quiz
2. The recipient must be able to receive attachments
If you are wondering if you can collect the responses/scores of the quiz, the answer is YES, as long as you have configured the quiz to use the Atrixware QMS to receive the student responses.
If you enjoyed this article please consider staying updated via RSS.
This entry was posted on Friday, April 3rd, 2009 at 11:02 am and is filed under Anthony, Easy Quiz Maker. Both comments and pings are currently closed.