Delivering Quiz Questions in Sequence in Weblearning
Many times, you may shuffle your question order so each learner gets the questions in a different order (or perhaps even randomize the picks so they get different questions, too). This approach goes a long way towards preventing memorization and cheating.
However, there are also times when you may want to make sure you deliver questions (and slides) in a specific order – and that is what I will be discussing in this article.
When you enter in questions or slides into your Weblearning account, each question is given a 'random' sequence number (you will not find any 'sequence number' data filed on the question entry form).
The place you will be able to find the sequence data-field is in the slide & question listing area. To get there, click the SLIDES (tab), then select a category of slides/questions to work with — the slides/questions will be listed, with the sequence number in the box right before the question text (it will default to zero — meaning no sequence).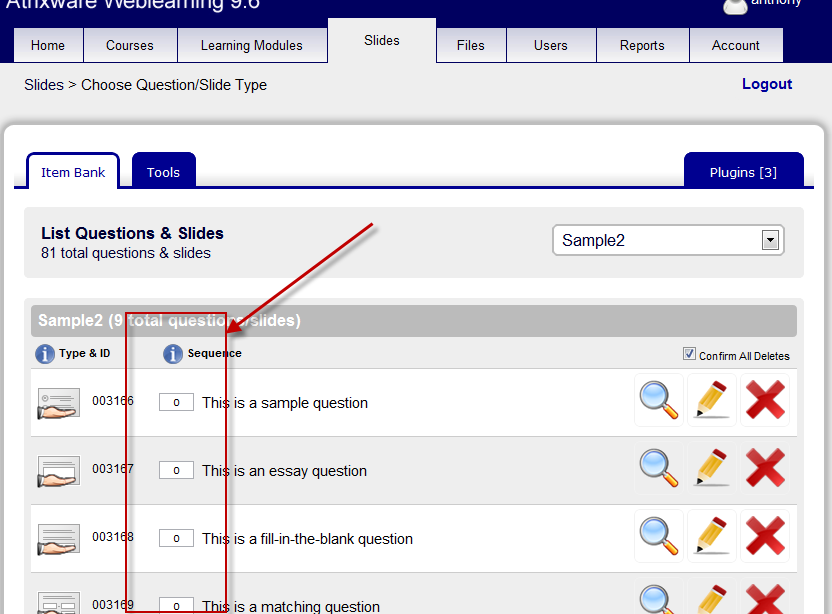 To sequence the questions and slides, simply type in the sequence number for each one, and then click the re-order button. Note that each 'category' has its own set of sequencing.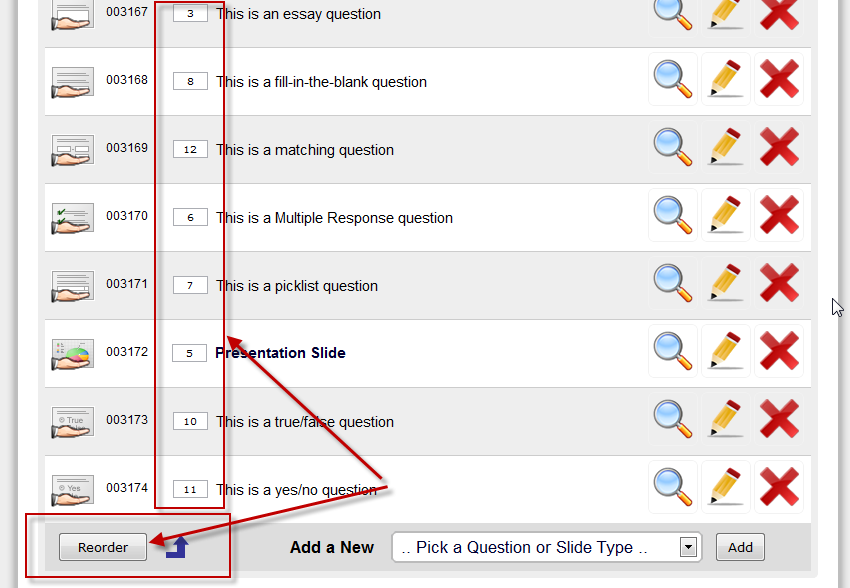 The next step is to publish your quiz or presentation. To do this click LEARNING MODULES (tab) > CREATE GRADED QUIZ (or one of the other create options to make an online quiz or online presentation).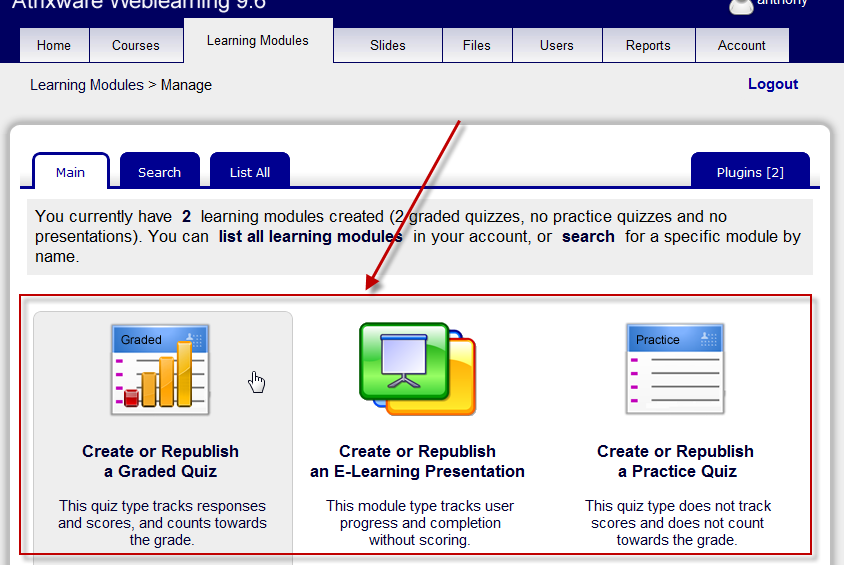 Once there, enter the quiz/presentation title, and make sure the SHUFFLE QUESTIONS check-box and RANDOM QUIZ check-box are both unchecked.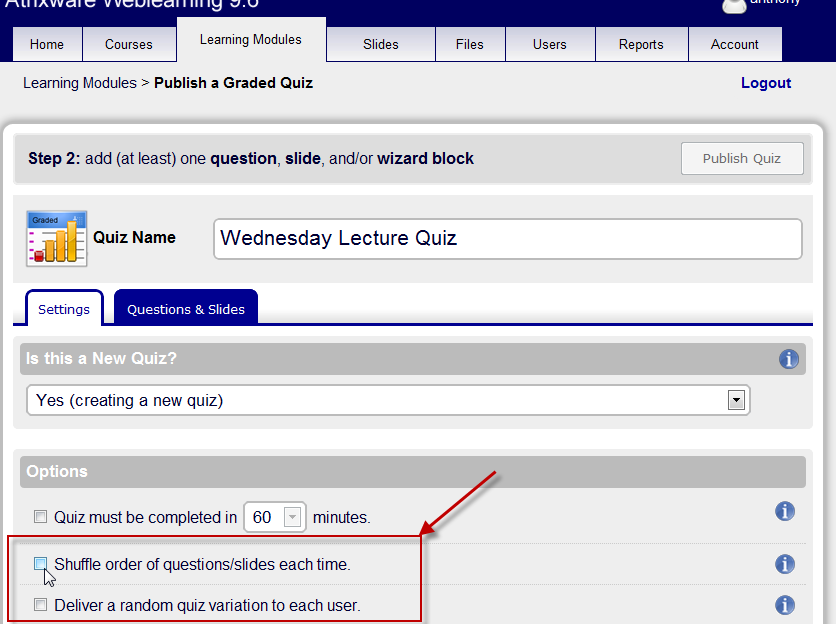 Next, click on the QUESTIONS & SLIDES tab, then click the CREATE WIZARD BLOCK button: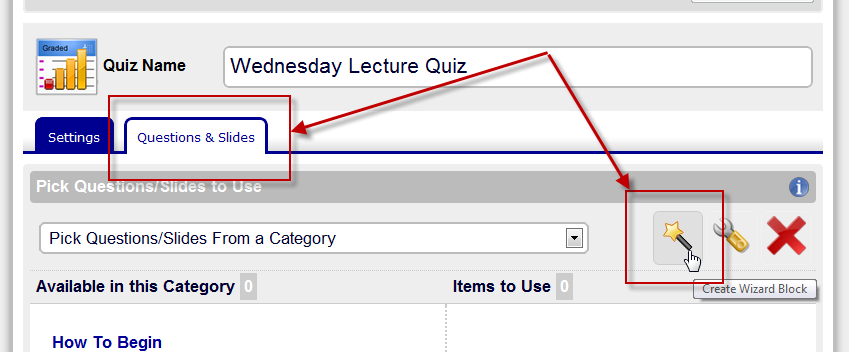 This will bring up the ADD WIZARD BLOCK dialog. Choose the category from the first drop-down, then choose IN SEQUENCE from the second, then choose ALL (or a number of slides/questions) from the 3rd, then click OK: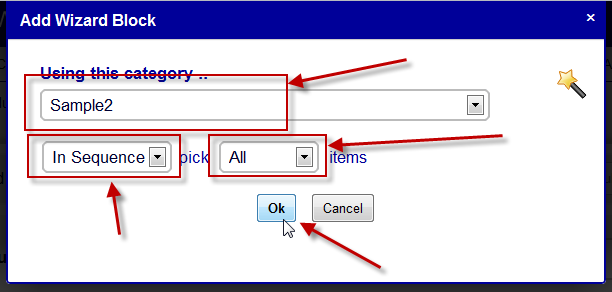 The result will be a wizard-block entry in the to-use column of your quiz/presentation: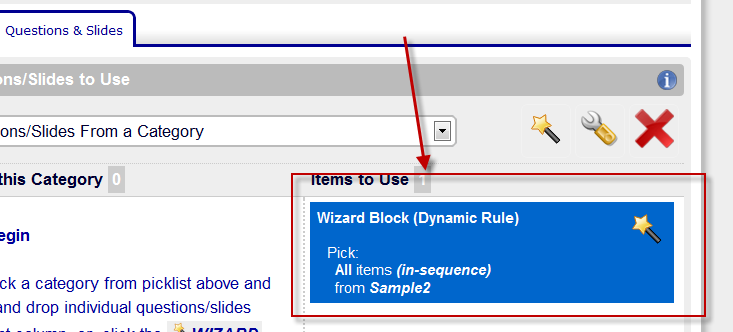 Publish the online quiz by clicking the Publish Quiz button.
That's it! Now place your quiz or presentation into a course, and you are ready to go.
The Weblearning E-Learning System is a powerful, budget-friendly, easy-to-use Online E-Learning System for authoring, managing, and tracking online learning presentations and tests. To try it FREE,  go to the Weblearning E-Learning System Sign-up Form.
If you enjoyed this article please consider staying updated via RSS.
This entry was posted on Tuesday, March 1st, 2011 at 11:28 am and is filed under ELearning 101, Weblearning. Responses are currently closed, but you can trackback from your own site.