Customize Reports in Weblearning 9
Customizing your reports in Weblearning 9.0 is a very easy process. You can modify a report to use the same template for every quiz you publish and you can modify them on a specific quiz. I will start with customizing the report in our default settings for every quiz.
Note: Your new default settings will only apply to future quizzes and will not affect any of your previously created quizzes.
First click on your Create tab then Set Up Publishing Defaults for All Modules.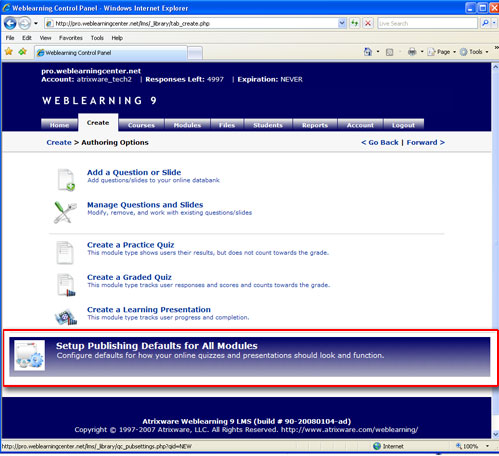 Now click your Response Pages and Emails tab.
First, we want to make the editor window a bit bigger so it will be easier to work by grabbing the bottom right corner of the editor window as shown below. After you drag it to an appropriate size, we are ready to go.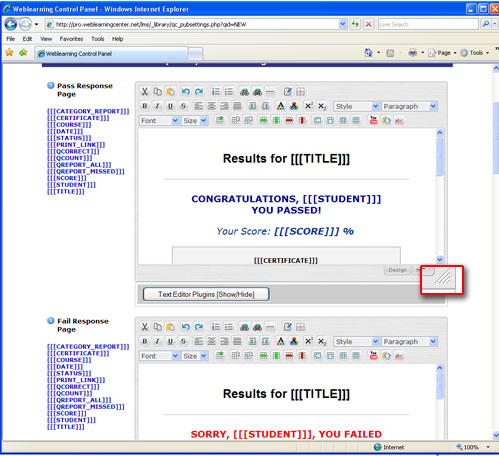 We will begin by modifying the Pass Response Page. If you are not sure what a tool does in the editor, you can rollover it and a tool tip will appear.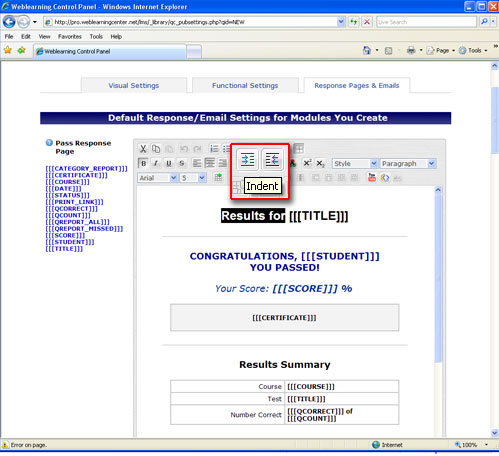 You can do the same with the blue placeholders on the left of the editor. If you are unsure how the editor or placeholders work, click here to read a few tutorials that go in depth on the editor functions.
In this tutorial, we will be performing some basic modifications to your response pages. First we will remove a section. Rollover the edge of the gray box with the [[[certificate]]] placeholder. You will see a + sign with arrows at the ends appear. This will allow you to select the box. It is a bit tricky to get but after your selector appears, just click on it then hit the Delete button on your keyboard.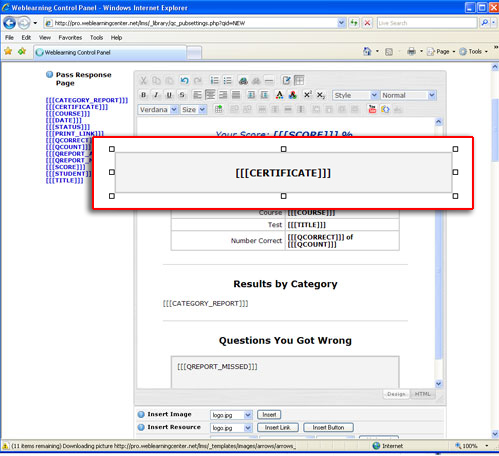 Once you have removed the certificate that appears at the end of the test, we will now add another line to our Result Summary table.
Click anywhere inside the table and click your insert row button.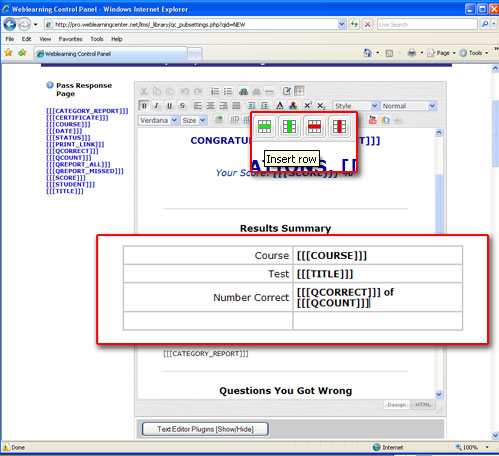 Now you have an extra line to add any additional information. I am going to add the date the test was taken. On the left side of the new row, type "Date." On the other side, we will insert the [[[date]]] placeholder. Now we have added the date that the student has taken the test to our Pass Response Page.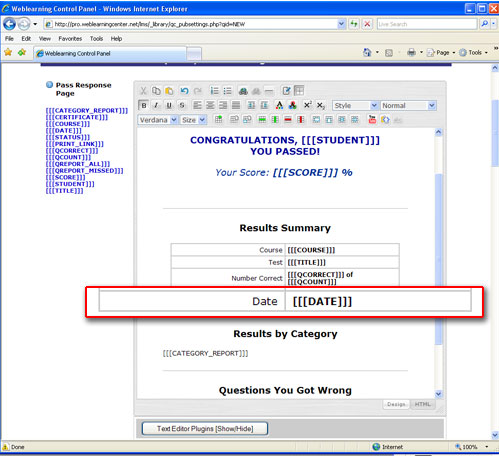 You can make the same modifications to the rest of your response pages if desired. If you want to set up your response defaults for all of your quizzes and have a specific quiz display something different, you can. Click your Modules tab, then click the properties link of the specific quiz you would like to modify. Click your advanced settings tab and scroll down to your response pages. You can now edit your pages as you did when you were setting up your defaults.
If you enjoyed this article please consider staying updated via RSS.
This entry was posted on Thursday, March 13th, 2008 at 3:31 pm and is filed under Atrixware 101, Dan, Weblearning. Both comments and pings are currently closed.