Custom Banners in Weblearning 9
In the Atrixware Weblearning 9.0 system, you can upload your own corporate/company logos to use along the top of your courses, and even on your quizzes and presentations.
Let me show you how easy it is. I will begin by uploading a custom header for a course.
(Note: the course banner must be 800 x 150 pixels)
1. Click the Files tab, click Browse, navigate to your image file and click upload. (You can confirm that it uploaded by selecting the existing uploads tab and clicking the appropriate file type tab).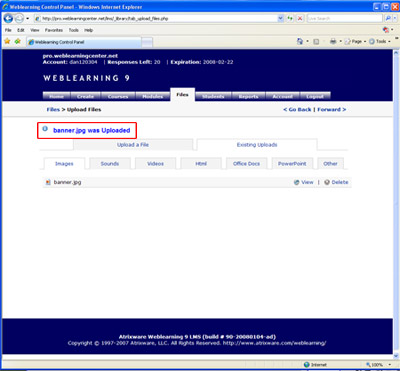 2. Click the Courses tab then click create a new course. If you already have a course created, click the Courses tab, click Admin Tools then Properties and Settings
3. Navigate to the Banner drop down menu, select your banner image and click save changes. If your image is not in the drop down, check the exisiting uploads area under the Files tab to confirm it was uploaded.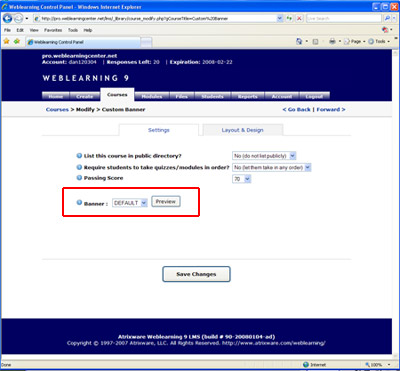 4. View your banner by clicking the Courses tab then click portal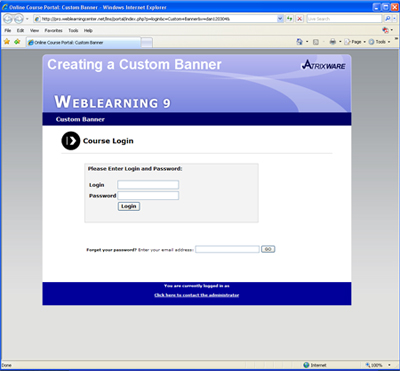 To upload a header to a quiz that you have created, follow the steps below.
(Note: the quiz banner must be 468 x 60 pixels)
1. Click your Modules tab then select properties
2. Upload your banner in the Files tab (discussed above)
3. Navigate to the banner drop down menu and select your banner and click submit changes
4. If not done already, assign the quiz to a course, click the Courses tab and click the portal link of the course you created. Login and take the quiz. Your custom banner will now be displayed at the top of the quiz
If you enjoyed this article please consider staying updated via RSS.
This entry was posted on Friday, February 15th, 2008 at 2:02 pm and is filed under Atrixware 101, Dan, Weblearning. Both comments and pings are currently closed.