Creating a Custom Design Template for PowerPoint Quiz Maker
The newest version of Atrixware PowerPoint Quiz Maker uses design templates for the resultant presentation. For the most part, the included templates are usable, but with just a bit of work, you can create your own, and add in your own logo, graphics, font sizes, and transition FX (as a small example).
To start, browse to the templates folder:
In Windows XP, its usually here:
C:\Documents and Settings\All Users\Application Data\atrixware\PowerPoint Quiz Maker 9\shared\ppt templates\
In Windows Vista, it's usually here:
C:\ProgramData\Atrixware\PowerPoint Quiz Maker 9\shared\ppt templates\
You should see the following folders (or something similar):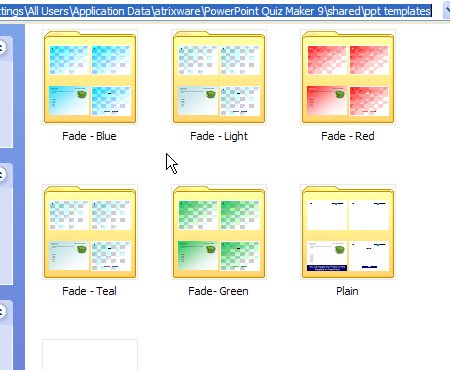 Now, COPY a folder (I will use PLAIN in this example), and then PASTE it so there is a new folder ..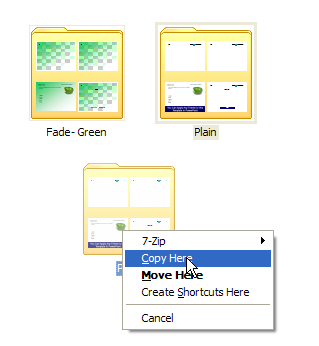 Rename the new folder to CUSTOM1 (or whatever you would like):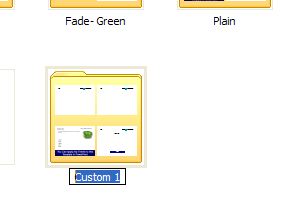 Now, double-click on the folder to open it, and you will see the following files: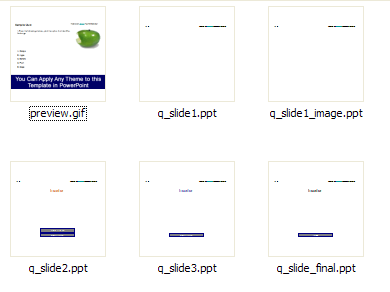 The preview.gif file is what you see in PowerPoint Quiz Maker when you choose the design template. If you have a graphic editor, you can change this to whatever you desire. For this example, we will use the default preview.
The other 5 files are used by PowerPoint Quiz Maker when it creates the PowerPoint quizzes. You can modify one, or all of these files inside of PowerPoint. The important thing is to NOT remove any elements already there, or the quiz may not work properly (but you can certainly ADD elements and MOVE elements around).
For this article, I will modify the q_slide1.ppt, which represents the slide that contains the question text, and choices for questions that do not have an image (for questions with an image, the q_slide1_image.ppt is the template). So, double-click on the q_slide1.ppt file, and it will open in PowerPoint.
Once open, you can do whatever you normally do in PowerPoint (change locations of text objects, change font sizes, colors, and styles, add some graphics and perhaps a background, assign transition FX, etc). Shown below is a before and after of the q_slide1.ppt file I did: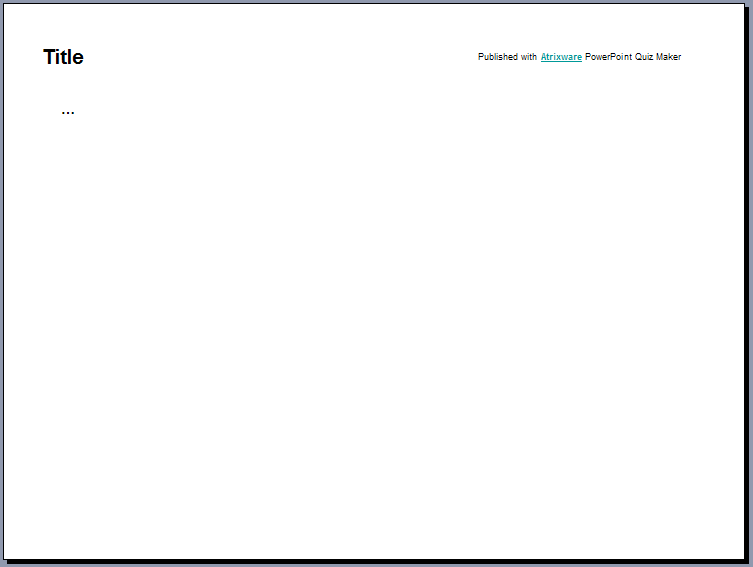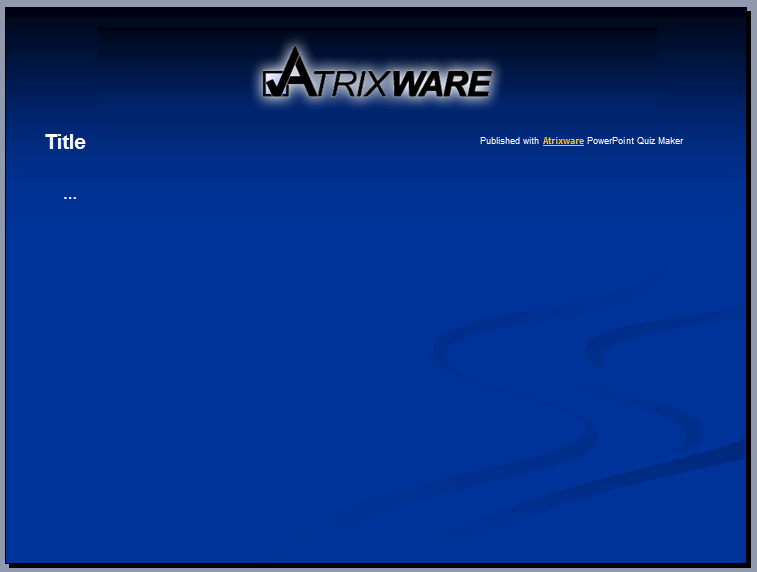 I also added an entrance effect to the question text and choices by selecting each one (6 total fields) and then right-clicking and choosing CUSTOM ANIMATION ..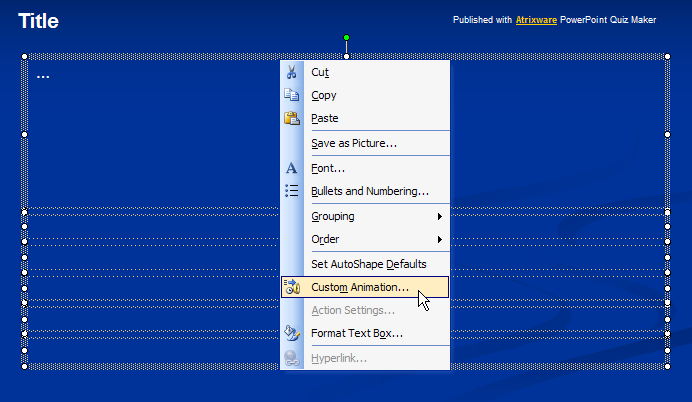 .. and then choosing ADD EFFECT > ENTRANCE > FLY IN ..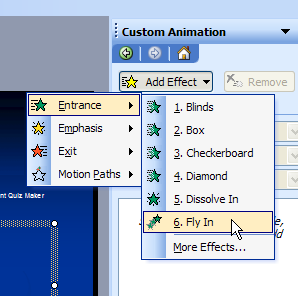 Once you have the slide the way you like it, SAVE it, and if necessary, perform edits on the other files as well. Once complete, you will see your template as an available option from the PowerPoint Publish Dialog from inside of PowerPoint Quiz Maker: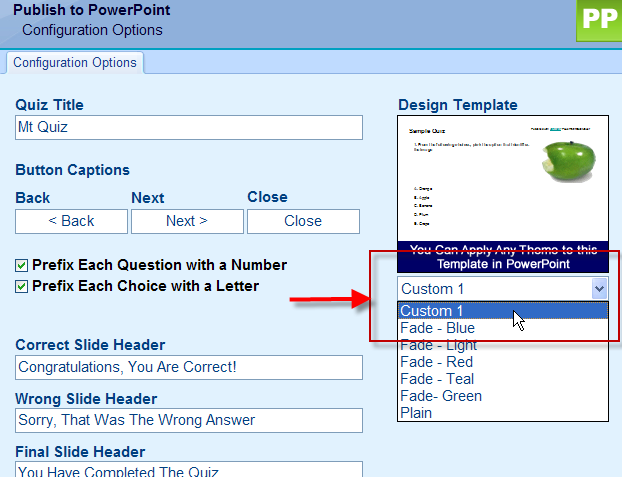 If you enjoyed this article please consider staying updated via RSS.
This entry was posted on Friday, July 10th, 2009 at 3:13 pm and is filed under Anthony, Atrixware 101, PowerPoint Quiz Maker. Both comments and pings are currently closed.