Color Tagging Quizzes in Easy Quiz Maker
Easy Quiz Maker 9 has added a new level of tagging and sorting both your printed and web quizzes to make organizing your quiz projects that much easier. There are five different color tags available to use – Blue, Green, Red, White (the default), and Yellow.

To get started using the color tagging feature, we'll assume you already have a quiz project set up and have a created a few Printed Quizzes.  To tag a quiz as a certain color, click on the icon for the quiz you would like to tag (highlighting it), then click on the Set Color icon for the toolbar at the top. When you click on the Set Color, you'll be presented with the 5 different color options available to you. Simply select on of those colors from the list.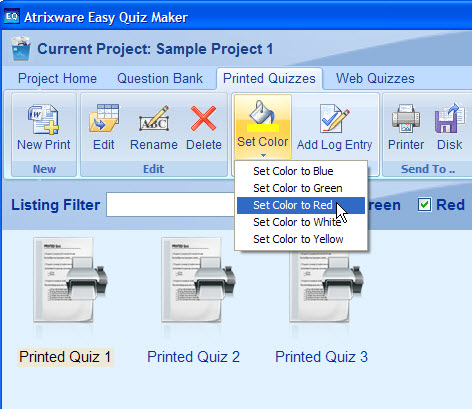 By selecting Red from the list above, this will tag my quiz as red. Once I've tagged my quiz as a certain color, the icon of that quiz will change to reflect the color that it has been tagged. Assuming that I go through and tag a few other of my quizzes different colors, my Printed Quiz screen might look something like this: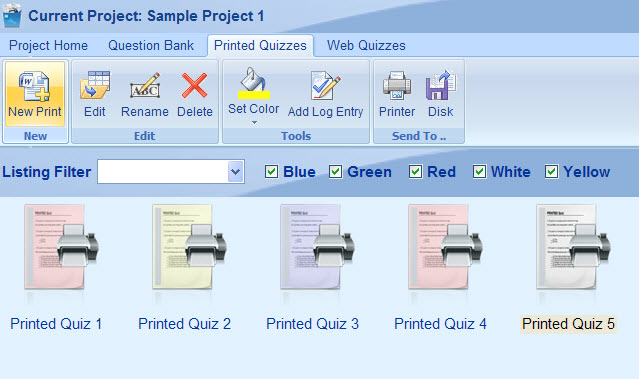 As you can see from the picture above, I've tagged two of my quizzes red, one of my quizzes yellow, one of my quizzes blue, and left the quiz as the default white.  Now that I have my quizzes tagged in the appropriate colors, I can easily filter the quizzes displayed to me using the color options to the right of the Listing Filter.  This can become particularly useful if you have many quizzes that you needed to easily sort. In my case, I might have decided that red quizzes are on the subject of history, while yellow quizzes are on the subject on math.
If I only wanted to display history quizzes (in my case red quizzes) – I'd simply uncheck the boxes next to each of the colors that I did not want to display, while leaving the color(s) I want to display checked.

This tells Easy Quiz Maker to only display quizzes that have been tagged red, so my Printed Quiz screen will now only display 2 results so that it looks like this: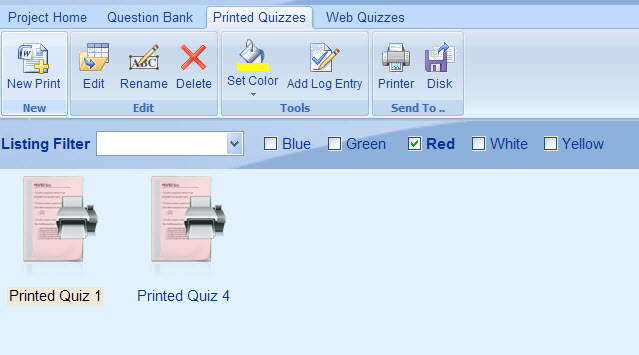 I can also set it to display multiple quiz colors at the same time. For instance, if I wanted to display history and math quizzes (red and yellow), I would check the boxes next to both red and yellow at the top while leaving the other colors unchecked.

This would change my display to show both the red and yellow tagged quizzes, making it look like this:

Color Tagging can be used on both Printed and Web quizzes.
If you enjoyed this article please consider staying updated via RSS.
This entry was posted on Friday, April 3rd, 2009 at 12:53 pm and is filed under Atrixware 101, Chris, Easy Quiz Maker. Both comments and pings are currently closed.