Autorun Packages from a CD
After our users have created a package with Package Wrapper, many of our users to choose to distribute there packages via CD-Rom.  A question we've been asked in the past is how to burn the CD-Rom so that the packaged EXE file will start automatically.
Depending on what burning software you use (Roxio, Nero, etc.) it is possible to set a specific file to ran automatically.  However, for the purpose of this tutorial I'll be going over a different method that can apply to any burning software, including the burning functionality that is included in Microsoft Windows.
Autorun.inf is a file that is stored in the root directory of your CD-Rom.  It tells the computer the location and name of which file to run when the CD-Rom is inserted into the drive.  What we're going to do is create our own autorun.inf using a text editor such as notepad that we will be burning to CD along with our package EXE file.
The first step is run Notepad from either inside of the Start menu or via the Run Dialog (notepad.exe) in Microsoft Windows.
We only need to place two lines of code inside of the text file in order to create our autorun.inf file.  Place the following into notepad (or the text editor you are using):
[autorun]

open=filename.exe
Where filename.exe is the name of the executable file that you created in Package Wrapper and plan to burn to CD-Rom.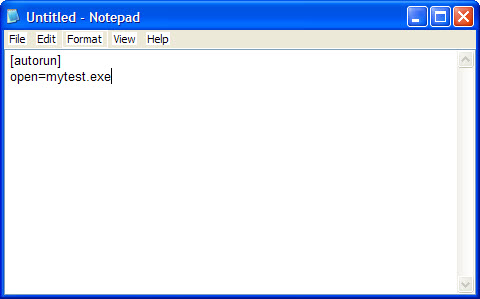 In the example above, the name of the package I created in Package Wrapper would be mytest.exe.
Once you've entered the lines into notepad, simply save the file to the same folder where your package EXE file is stored with the filename autorun.inf.  When you are ready to burn your software to CD, all you need to do is burn both your packaged executable file and the autorun.inf file.  When your user inserts your CD-Rom into there computer, your package should start automatically.
NOTE:  Microsoft Windows allows the user to disable the autorun feature.  That means that even if you create the CD-Rom so that your package will start automatically, it will only do so on systems where the feature has not been disabled.
For more information on creating and using the autorun.inf file, you can view Microsoft's How-To for a wealth of information: http://support.microsoft.com/kb/818804.
If you enjoyed this article please consider staying updated via RSS.
This entry was posted on Wednesday, November 5th, 2008 at 1:56 pm and is filed under Atrixware 101, Chris, ELearning 101, ELearning Business, Package Wrapper. Both comments and pings are currently closed.