Adding Audio Narrations to Questions and Slides
In the latest patch to the Weblearning 9.5 LMS, we added (among other things) the ability to add audio narrations to your quiz questions and/or presentation slides as part of the new Text Editor Plugins Toolbar.
To begin, first record and then upload  your audio narrations into the FILES tab (note: make sure the narrations are in MP3 format). Once the mp3 files are uploaded into your account, you will easily be able to attach them to your questions or slides (as I will describe next).
For this example, I am adding a new Presentation Slide, and have entered some basic text (as shown):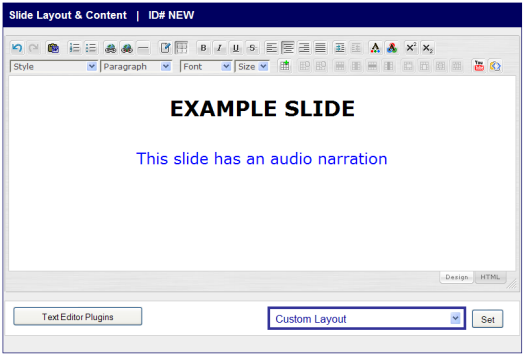 Next, click the TEXT EDITOR PLUGINS button:

From the Plugins window, choose INSERT AUDIO: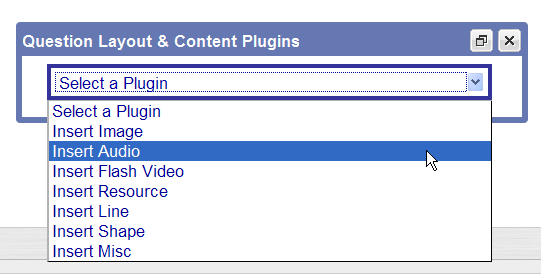 The audio plugin will appear. Simply choose the mp3 file to insert, and check/uncheck the AUTOPLAY checkbox, and choose the color of the player (keep it at auto-color for maximum compatibility with all the different skins you may apply to your quiz or presentation).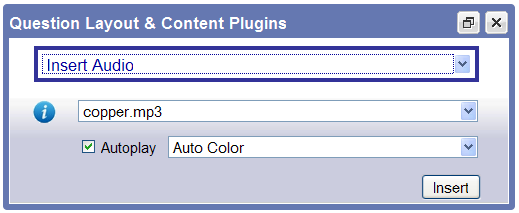 Once you click the INSERT button, an identifying region will appear on the slide (or question) along the top:

Go ahead and SAVE the slide, and then publish a presentation that includes this slide (and add to a course, etc). Once you view the presentation (as a student would), here is what it will look like: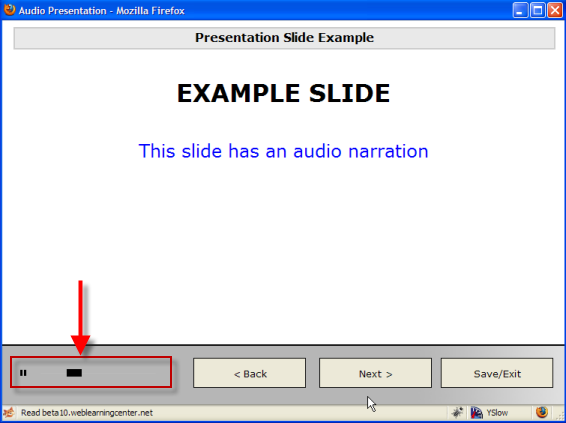 Note the audio play bar along the bottom left of the presentation. It contains a Play/Pause button, and a moving bar indicating how far along the audio is from the end. If you have set it to auto-play (as I did in this example), the audio will begin playing when the slide is in view. Otherwise, the user can start the audio by clicking the PLAY button (which turns into a PAUSE button when the audio is playing).
If you enjoyed this article please consider staying updated via RSS.
This entry was posted on Thursday, July 16th, 2009 at 9:58 am and is filed under Anthony, Atrixware 101, Weblearning. Both comments and pings are currently closed.