Archive for February, 2010
Well, its been a rough week up here in the northeast. The office is closed because we are getting hammered for the 2nd time in 4 days with 20+ inches of snow, so some of us (including yours truly) are working from home.
Given the circumstance, I decided to write about some more things you can look forward to in Weblearning 9.6.
Again, these are all added since my last article, and are my 10 favorites since the.
1. 100-module Limit is gone! Configurable # modules
If you have faced this limitation, you know how huge this is. All previous versions of Weblearning had a hard cap limit of 100 total modules (quizzes/presentations) per course admin account. Weblearning 9.6 changes that.While lite and basic plans will get less than 100 (thinking maybe 10 and 30 or something like that), Pro will start at 100 (and then you will be able to scale it up (for a small fee) to as many as you need (well, actually the limit is now 9,998).
2.  Improved Question Preview
The existing question preview does an OK job, but fails when your layout is complex. The new preview fixes that. In addition, the question preview is now available from the slides tab from within a quiz or presentation (so you can see the questions inside of a particular quiz), and even lets you compare the question in the quiz against the one in the databank if the two are not the same version#. Lastly, the preview now includes the choices section for questions!
3. Question and Slide Sharing
Weblearning currently has an on/off config for sharing questions and slides across multiple course admins. Unfortunately, its an all-or-nothing proposition (either all admims can view/edit/delete/use all other admins' items, or they can't). Weblearning 9.6 adds quite a bit of granularity. First, you can set the sharing on or off. Then, you can set parameters for whether or not the shared items can be MODIFIED or DELETED by others (or just viewed). Also, you can share/unshare items on an item-by-item basis, so you can have both private and shared items in your bank. So if you are using multiple course admins, this new system of sharing content should scale to any scenario you have.
4. Optional HTML styled Emails
All of the emails that get sent from Weblearning (like score report emails, and course invitations) are sent in plain-text format by default (which are the least likely to be flagged as spam). However, many of you were asking for HTML email abilities. To accommodate both scenarios, you can now simply enter in the tag <html> into the template sections for each email, and they will be treated/sent as HTML.
5.  Print Quiz Function
You will now be able to print off a quiz from inside the quiz properties.The print function even reformats matching and picklist questions so they print properly.
6.  Massive overhaul of the Files section
This is a huge one – and after using this new version, will wonder how you ever got by before. If you incorporate a lot of content into your online courses (like images, videos, pdfs, etc), you will love the new files area. There are quite honestly too many things to mention here, but here are some highlights. Full file sharing abilities across admins, create your own folders and nested folders, perform searches for files, upload multiple files at once, and check the usage of any file. Also, when adding content into your courses, quizzes and questions/slides, you can add right from your computer (instead of having to upload first), so in one click you can browse for a file from your computer and insert it into your course quiz or slide!
7. Add Questions into your Presentations + Instant Feedback
Currently, when you make a presentation in Weblearning 9.5, you are limited to just 'slides' — no question types can be used. This has changed in 9.6, where now you are able to add multiple-option, true/false and yes/no style questions into presentations. When these questions exist in a presentation, they operate a bit differently than in a quiz. When inside a presentation, when a question is delivered, the navigation is locked (so user cannot advance), and then they are forced to pick a choice. When they pick one, they are instantly notified if they were correct or not (along with feedback you can enter for each individual choice if you want). It is only when they answer correctly that the navigation is re-enabled.
8. Per-Slide/Question Animations and Slide Navigation Settings
Slides get two new settings – entrance animation (fly-in from top/bottom/left/right slow/medium/fast), and navigation settings (lock navigation for 5 seconds to 10 minutes (to force users to spend a certain amount of time per slide/per presentation), and and auto-advance to next slide setting so you can auto-advance them from slide to slide without them having to click anything). Questions get the same entrance animation options, but the question text and choices section can each have its own animation setting (so for example, you can have the question text fly in from the right, and the choices section fly in from the bottom).
9. Per Slide/Question JavaScript Code
A bit of a more advanced piece of functionality, but for those of you who can write Javascript, you can now write code that will execute upon a slide/question being delivered. Of course, the entire Javascript language is supported, and in addition, you have full access to the Prototype and Scriptaculous framework, and well as the jQuery framework!
10. Quiz-Level Plugins
I have talked about the plugin architecture in the other articles, but we just recently implemented this into Quizzes and Presentations. What it means is that you can incorporate plugins (code) into presentations and quizzes too, making them much more scalable.
If you are a current user of Weblearning 9.5, and are interested in a demo account on the beta server, email me at anthony @ atrixware.com and I will get you set up.
If you enjoyed this article please consider staying updated via RSS.
As I sit snowed in to my home office on a Saturday, I figured I would post some screen shots of the new Weblearning 9.6 interface. Note that these are screen captures of the in-development build of Weblearning 9.6, so some minor things may change, but if you are using 9.5 now, you will notice major changes (and improvements) to the interface, while still maintaining the same 'feel' of 9.5.
So this will be a photo-only article (no captions, no comments), but I made sure to put a few screens in here that show new features that I have not yet posted about – hope you like it!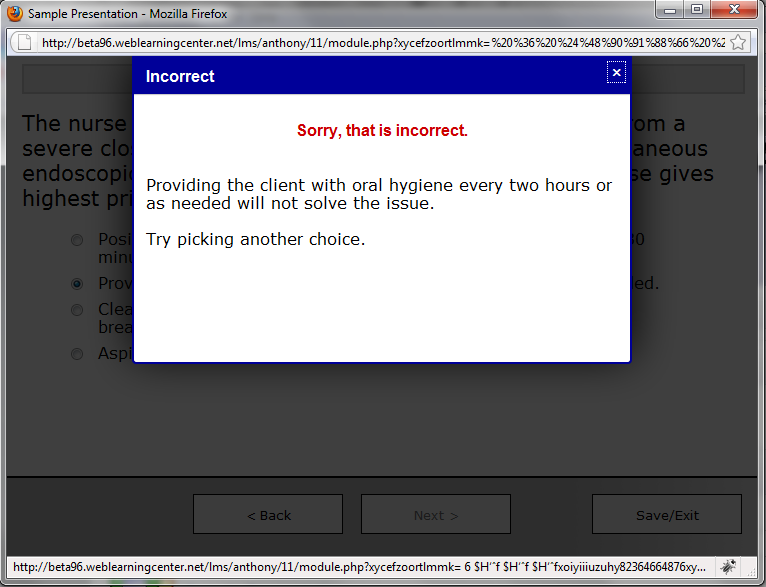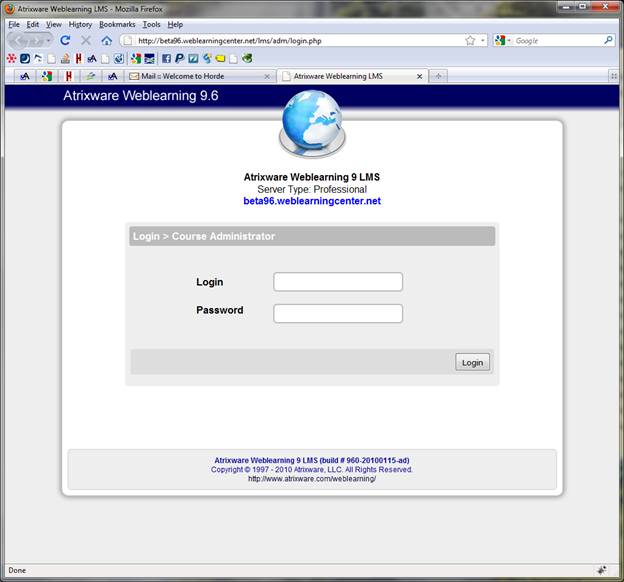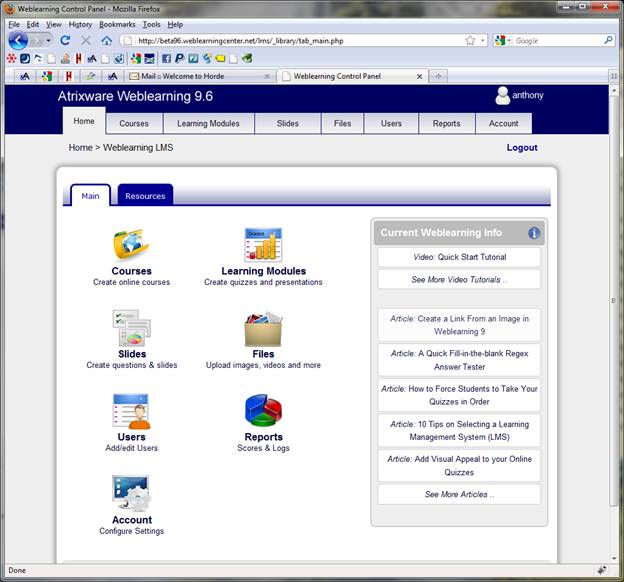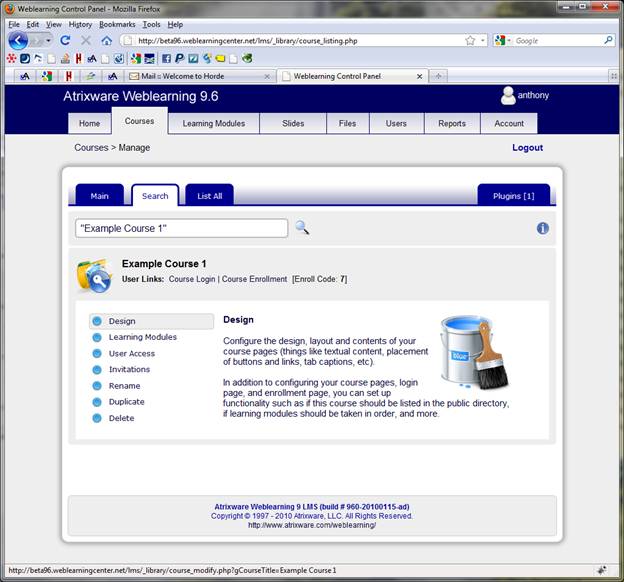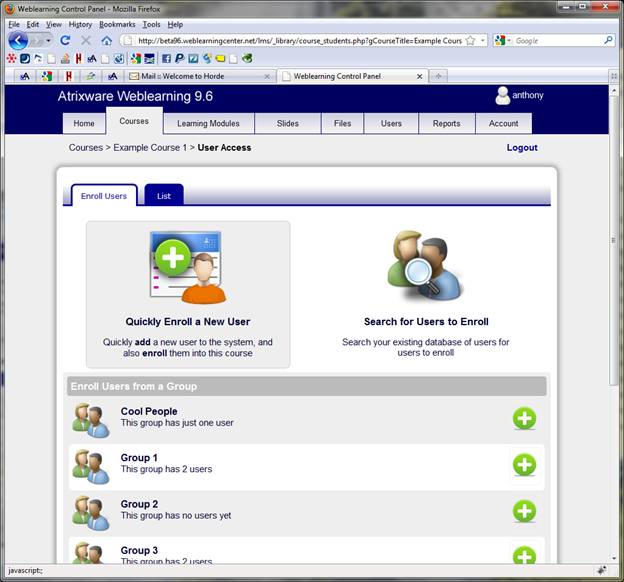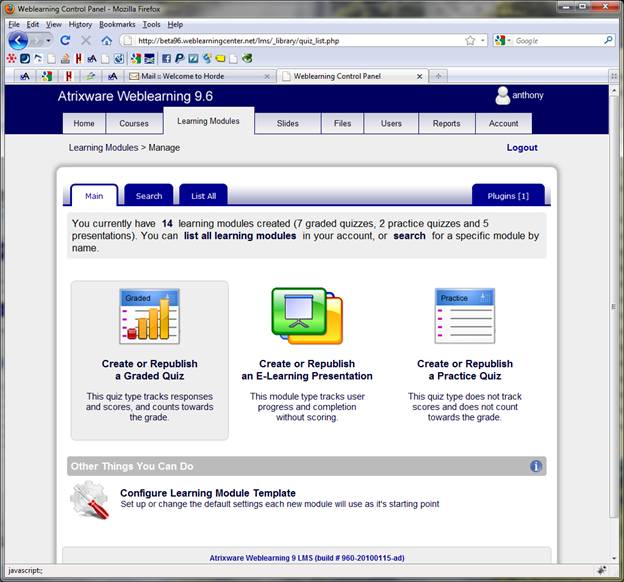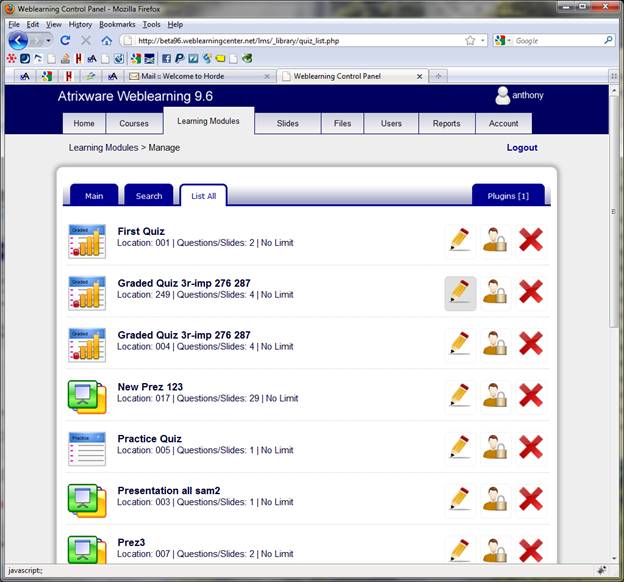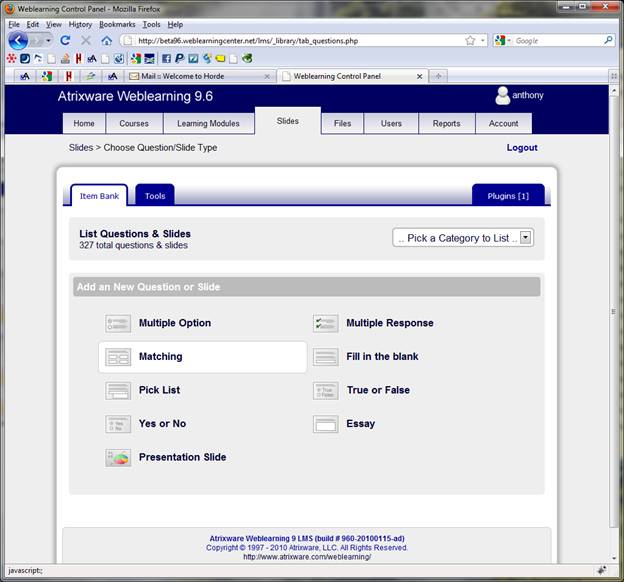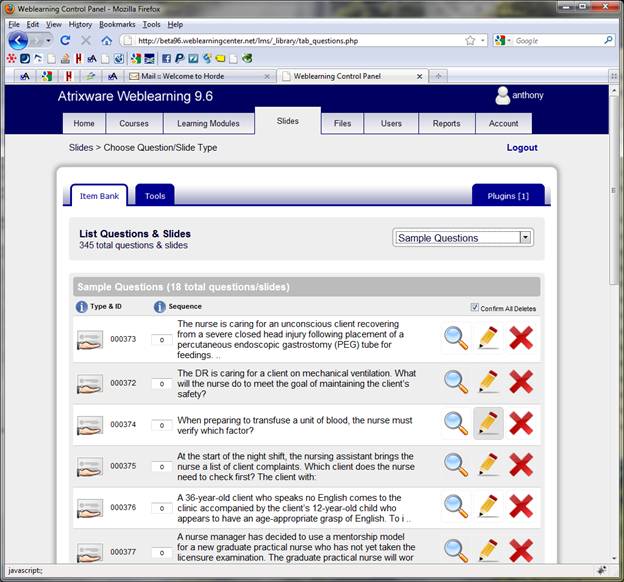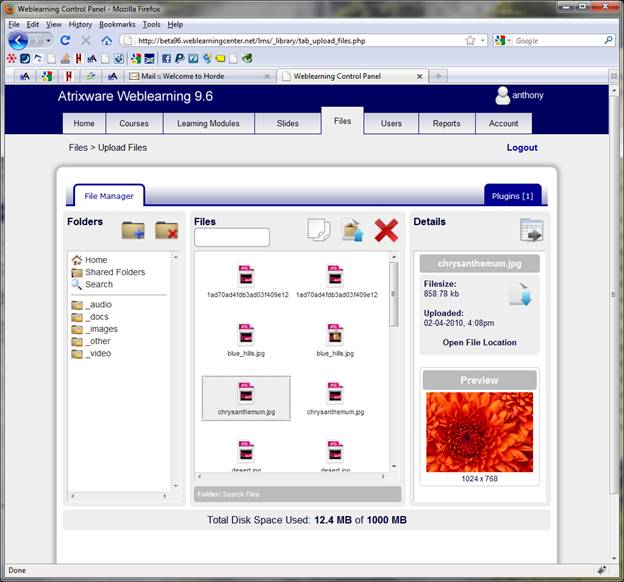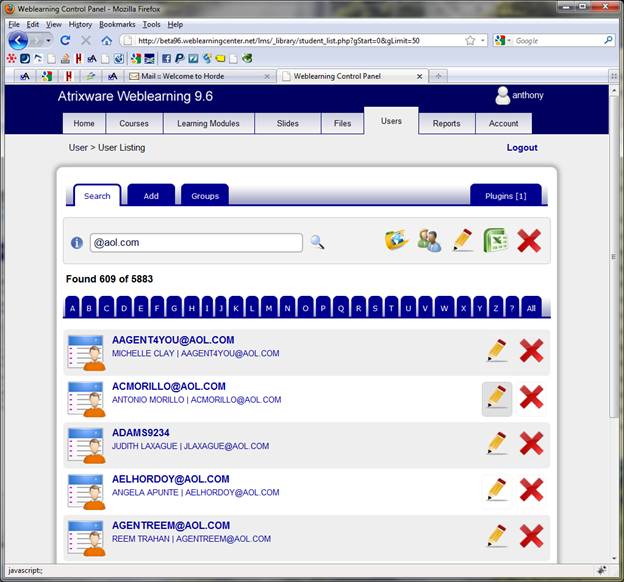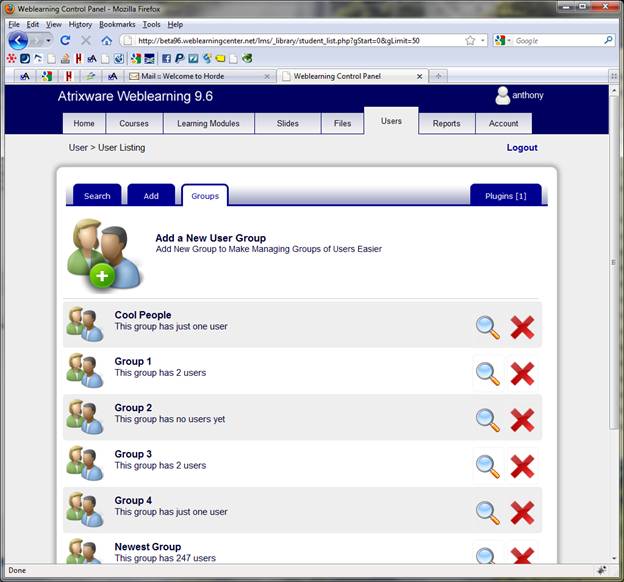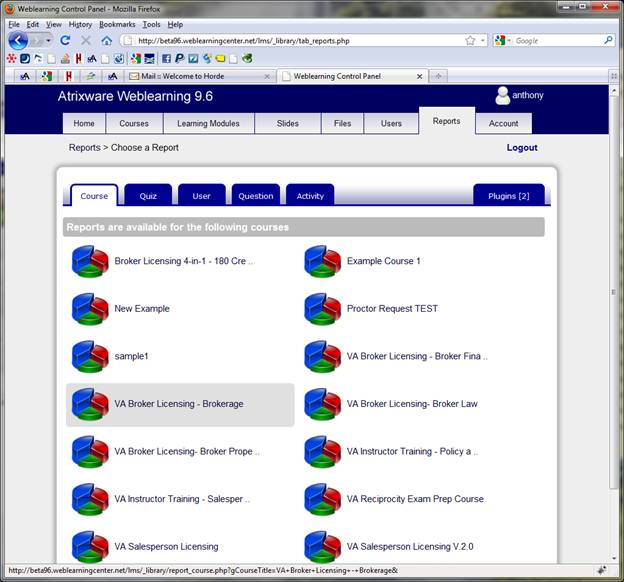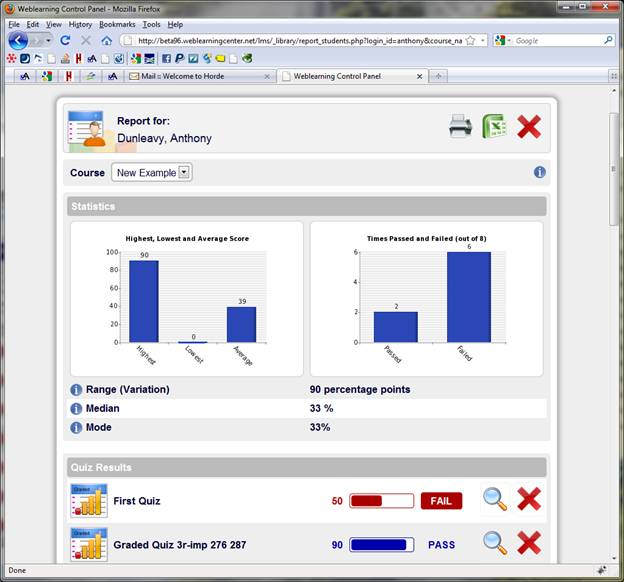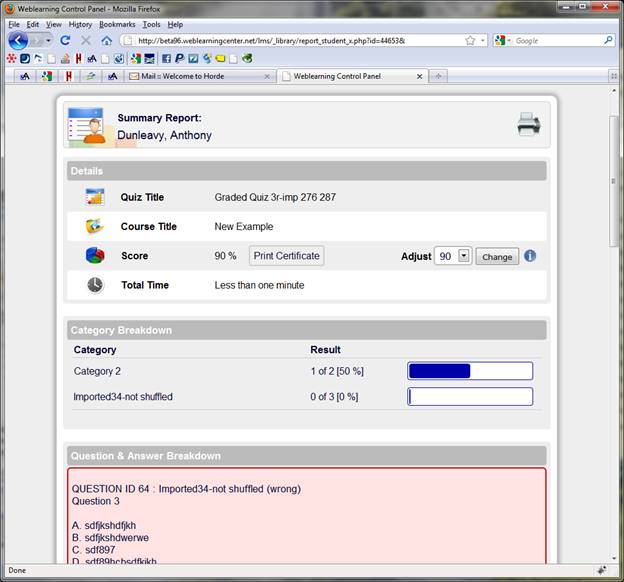 If you enjoyed this article please consider staying updated via RSS.