Archive for December, 2009
We have been hard at work on the next update to Weblearning – version 9.6.
We are still a few months or more away from release (it's scheduled for a Q1 2010 release), but there are so many new and cool things that will wind up in this new update, I thought I would mention a few.
There are actually around 100 new features and changes planned for version 9.6 (many based on your suggestions and requests since 9.5 was released in January 2009), but I will only cover the ones that are almost guaranteed to be in the final release (meaning they are done already and working), and from those, I will only mention a few (just my favorite ten ~ although almost 50 new features and changes are done so far).
#1. Auto-Save Progress
This is a big one ~ and what it means is that when your students are inside online quizzes and presentations, their progress is auto-saved (at pre-determined intervals which you can specify). If they lose connection, or have a power failure, this feature will be a lifesaver!

#2. Timezone and Display Settings
You can now assign a timezone override to the server time so reports will have the time and date based on your time zone. This also includes the ability to customize time/date output (so for example, you can display dates like this: 12/25/2009 or like this 12-25-09 or like this December 25, 2009 or like this Friday, December 25, 2009 (or really any way you want).
#3: Copy Courses / Rename Courses
Two seemingly simple features, missing until now – but will be available in 9.6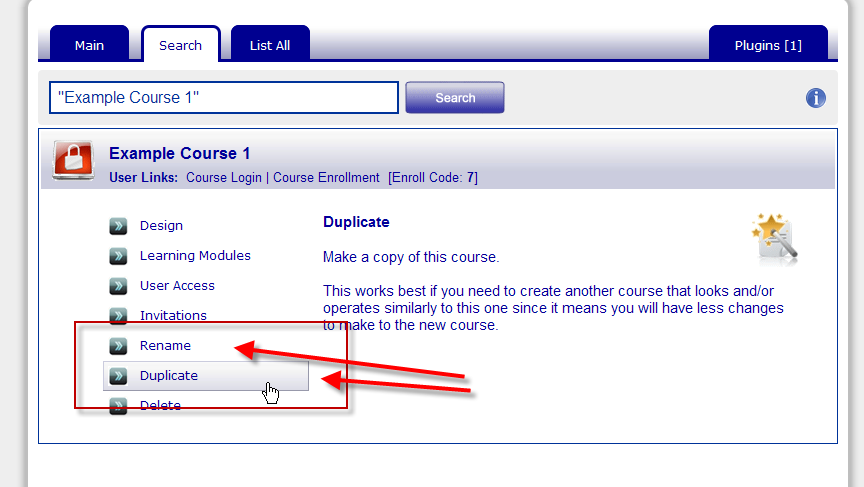 #4. Course Templates
Do you use the same Course layout and configuration for every course you create, but are tired of having to edit each new courses with your same desired content? Course Templates will enable you to set up a course template so each course you create will use it by default!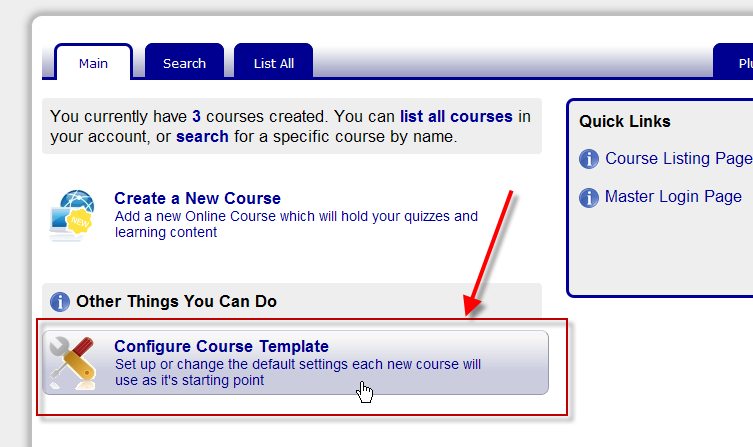 #5. Placeholders can now be Dragged & Dropped
When inserting placeholder text into your emails, page layouts, etc, all of the placeholders can now be dragged & dropped into place, making it a snap!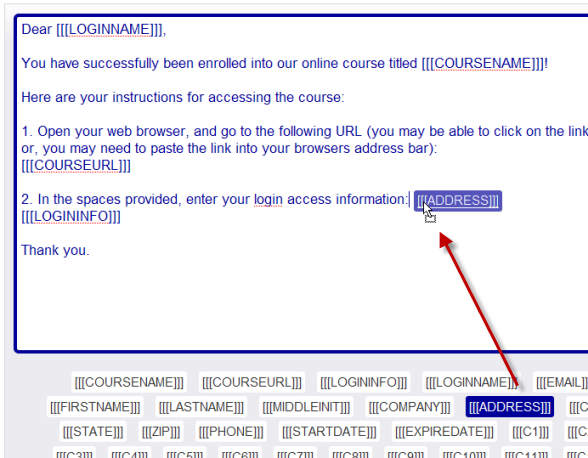 #6. Intellectual Property Protection
Lock down your content and apply preventative measures to deter users from stealing your content ~ it's as simple as selecting YES to enable the protection!

#7: Multiple Admin Passwords
Do you want to assign someone to do just authoring of questions, and someone else to pull reports? Version 9.6 enables you to assign up to 4 additional passwords to your account, and specify which areas of your account they can access!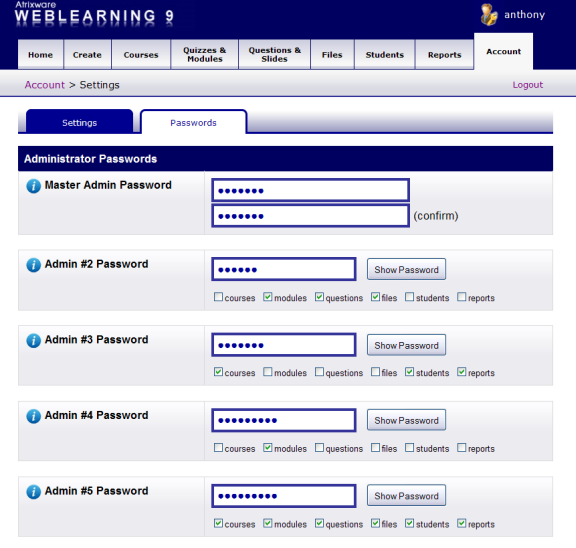 #8. Course Invitations Get Major Improvements
Re-use previous invitation body texts and subjects (they are automatically saved), track who was already invited and who wasn't, and even pull up the exact email invitation that was sent to each person, along with time and date.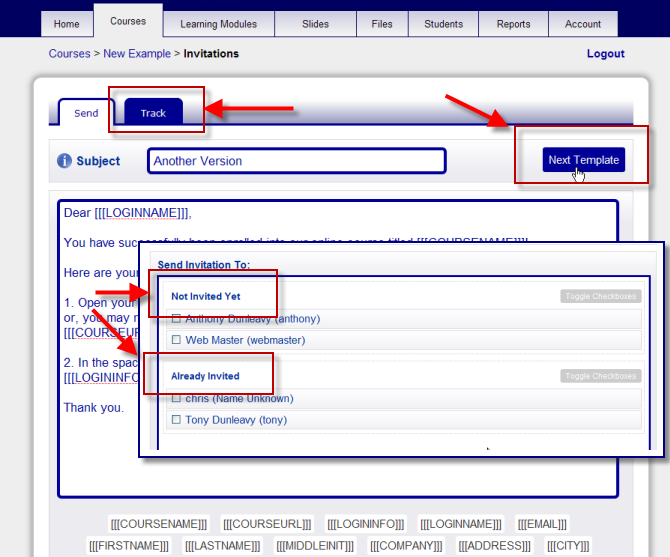 #9. Student Search Functions
Finding students couldn't be easier. Search by any field (including up to 15 custom fields now in version 9.6), or ALL fields, or by UserGroup (new in 9.6), or course they are enrolled in. Exporting and deleting can be applied to the results.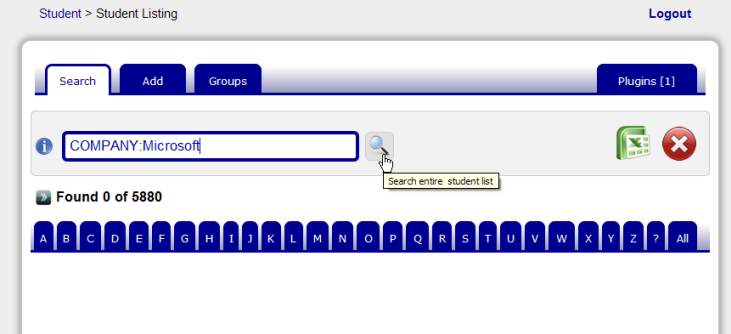 #10.  User Master Login
Want to send your students to a single login to access all of their courses (instead of having them log into each course individually)? Version 9.6 offers the master login page.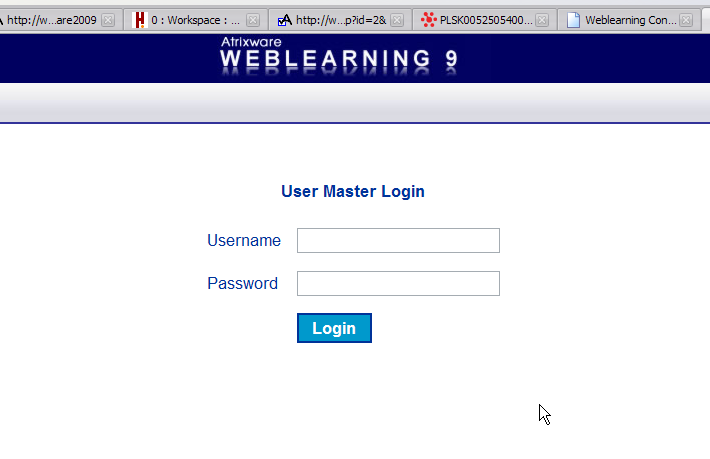 #11. Expandable Plug-in Architecture
Ok – I cheated, and added an 11th one to the list (couldn't resist). The new plug-in system is a huge addition to Weblearning. It has a plug-in system for the course admin interface (shown in image below ~ see the PLUGIN tab), as well as the course portal interface , and is the gateway to dozens of add-on components in the years to come, in addition to making it easy for us to add in customized functionality to your server without having to modify core files. It also makes it possible to incorporate other web components and applications into your courses that are not designed specifically for Weblearning.

As you may have realized, this new update is a massive release, not to mention a rehaul of the visual interface (we are constantly cleaning it up and trying to make it more usable). Of course as a Weblearning user, you get it FREE!
I will be back in a month or two with another list of my next favorite 10 things as we approach the release date. Thanks!
If you enjoyed this article please consider staying updated via RSS.